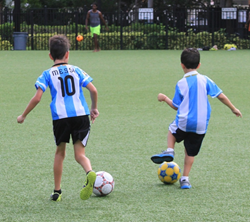 Sunny Isles Beach, Florida (PRWEB) August 28, 2014
The City of Sunny Isles Beach begins the fall athletic season with a big emphasis on soccer, offered at all levels. Registration is open at Pelican Community Park Community Center (18115 North Bay Road) seven days a week.
City soccer programs continue to grow by leaps and bounds. One of the most well attended programs offered is the SEAS soccer league. The City of Sunny Isles Beach, SEAS or Southeast Atlantic Soccer league offers recreational and competitive leagues and tournaments for youth and adults throughout the year. Since its inception, the SEAS league has achieved remarkable success and is highly respected as one of the premier soccer leagues in South Florida. SEAS participants include teams that represent Sunny Isles Beach and over 35 teams from regional soccer clubs or programs.
For fall 2014, SEAS will host its first ever all ladies league designed exclusively for current or former athletes, soccer moms, or women who desire a fun, competitive and exciting activity to improve health and wellness. For those still learning the game and polishing their skills, instructional soccer, for ages 6 – 10, and pee wee soccer, for ages 3 – 6, will provide the opportunity for every family member to get involved.
SEAS soccer games are played each weekend at the fields at Senator Gwen Margolis Park. Games begin in October and conclude in late November. Parking for soccer participants and spectators is available at the park, at 178th Drive, both sides of 177th Drive and 178th Street between 178th drive and North Bay Road.
In addition to soccer, the City offers a variety of athletic programs to meet all ages, ability and interest such as: field hockey, flag football, basketball and cheerleading. Enrollment is now open. Be sure to take advantage of your City of Sunny Isles Beach resident or Pelican Community Park membership benefits and discounts. For more information about City athletic programs and services call 305.792.1706 or visit http://www.sibfl.net/athletics.