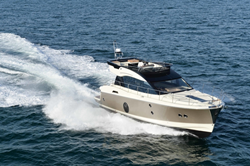 ...we intend to start our season off strong.
Newport, Rhode Island (PRWEB) August 28, 2014
The 44th Annual Newport International Boat Show is right around the corner. As boating continues to attract the crowds, Beneteau America, already one of the largest exhibitors in the show, is growing its presence in the show by more than 50% with 16 powerboats and sailboats in the 2014 show.
"The Newport Boat Show is the first show of the season and is one of the largest in-water boat shows in the country. Unsurprisingly, we intend to start our season off strong," said Maryline O'Shea, marketing director for Beneteau America. "To that end, we are bringing the Monte Carlo 5, awarded European Powerboat of the year, alongside an amazing line of new Beneteaus. Our entire Beneteau team is looking forward to the 2014 boat show."
Beneteau America will be making a big splash into the powerboat world this year with the launch of the Monte Carlo 5 and the Barracuda 7 – whose sister the Barracuda 9 won the Newport for New Product contest two years ago. Both are sure to wow at this year's show.
Beneteau is not just stepping up their powerboats presence, but they are also doubling up their sailboat footprint at the 2014 Newport International Boat Show. New to the show is the Oceanis 38 – which can be configured to meet the unique needs of her owners as a day sailer, weekender or cruiser. The Oceanis 38 was awarded European Yacht of the Year in the "Family Cruiser" category and received the NMMA Innovation Award in the "Sailboat" category this year.
Beneteau America has always been an attendees' favorite and is expected to grow in popularity this year with even more boats to explore and buy at the 2014 Newport International Boat Show:
SAILBOATS
First 25
Oceanis 38 – New this year
Oceanis 41
Oceanis 45
Oceanis 48
Oceanis 55
Sense 46
Sense 55
POWERBOATS
Barracuda 7 – New this year
Barracuda 9
Gran Turismo 38
Gran Turismo 44
Gran Turismo 49 HT
Swift Trawler 34
Swift Trawler 44
Monte Carlo 5
About Beneteau America:
Beneteau is known worldwide for its sleek design, quality construction, and innovation in the manufacturing of seaworthy sailing and power yachts. The Beneteau story began 130 years ago when Benjamin Bénéteau started building fishing trawlers in Saint-Gilles-Croix-de-Vie, France. Today, the company continues to thrive under the leadership of Benjamin Bénéteau's granddaughter, Madame Annette Bénéteau-Roux. Beneteau has manufacturing facilities in France, Brazil, and the United States.