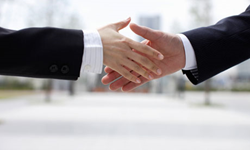 I was surprised how willing the team at Igloo was to help us find the ideal domain name...Turnaround time on the deal was incredibly fast, and we got exactly what we had been looking for.
(PRWEB) August 27, 2014
In a recent press release, Igloo.com, a leading broker of ultra premium of domain names and websites, discussed the advantages of brandable domain names for creative and progressive companies. FIN.com, RIN.com, Whoo.com, Vino.com, Trick.com and Vivor.com are just a sample of the brandable domains available with Igloo.com. Today, Igloo.com is pleased to share insight from two select clients with regards to their experience working with Igloo to acquire brandable domains for their unique projects.
"I was surprised how willing the team at Igloo was to help us find the ideal domain name for our upcoming casual game portal. They went above and beyond a normal broker's duty" says Bryce Fitzsimons Founder at Dojo.com. "Our broker helped us find an amazing deal on Dojo.com. Turnaround time on the deal was incredibly fast, and we got exactly what we had been looking for."
"In line with our sales efforts, Igloo advisors understand the range of unique elements required to achieve the results our clients are looking for when looking to secure a third-party-owned property, " shares Tessa Holcomb, Igloo.com Co-Founder and CEO. "Igloo's valued relationships and extensive connections enable us to work seamlessly within our network to bring mutually beneficial opportunities to fruition. In the case of Dojo.com, this domain was swiftly acquired in conjunction with Andrew Rosener, a longstanding Igloo partner and CEO at Media Options."
"Many of our clients value their anonymity while they raise rounds of funding and operate in stealth mode. We take this important piece of the start up puzzle of their off their plates so they can focus on what they do best, run their company." Says Amanda Waltz, Director of Sales and Acquisitions at Igloo.com "This continues to be just one of the reasons clients continue to work with us and refer their colleagues our way."
Lax Chandra, CEO at Step.com came to Igloo.com after a referral from a trusted friend. "I hadn't worked with a domain broker before, so I wasn't sure exactly what to expect. Working with Igloo.com, not only did I get better quality names than I would have found on my own, but our broker also took the time to educate me on the domain industry, and provided sales figures on comparable names which helped to properly set my expectations." says Chandra "Working with Igloo.com was not a 'hard-sell' at any point. It was an on-going conversation. I never felt rushed to make an immediate decision, Amanda took the time to understand what I was looking for."
Brandable domain names are in use by market leaders the likes of Google, Apple, Wayfair, Groupon, Amazon, and countless more. While Igloo's Domain Advisors have worked with numerous companies to help them acquire premium .com domains critical to their business, it's always exciting to see how clients like Fitzsimons and Chandra bring life to brandable domains like Dojo.com and Step.com.
If you would like to learn more about Igloo.com's domain acquisition process, hear more about our shared success with our clients, or review our entire inventory, please be sure to get in touch. For additional information or offer guidelines on the names listed above, please contact Amanda Waltz directly at +1 508 689 9569, ext. 201 or amanda@igloo.com.
About Igloo.com
Igloo.com assists both businesses and domain owners in the overall planning and execution of their domain strategy. We specialize in domain acquisitions, branding needs, and sales for our clients and help companies stake their claim online, rebrand, or simply acquire descriptive domain names to help set them apart from their competition. With over $100 million in domain and website transactions behind us, Igloo's results oriented team is unparalleled in experience, knowledge and most importantly, results.