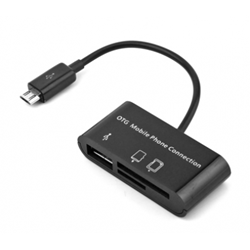 (PRWEB) August 27, 2014
Recently, Hiconn Electronics, a famous mobile phone accessory manufacturer, has added more than 1000 USB HUB & Card Readers to its product line. The company wants to expand its market share. According to its chief executive officer, clients who place an order before October 10 can get a discounted rate of up to 30% off.
All the brand new USB HUB & Card Readers from Hiconn Electronics have the same characteristics: nice shape, elegant look, and outstanding performance. The company's top designers understand that every distributor wants to introduce high quality products at the lowest possible rates; thus, they are making full efforts to create more cost-effective mobile phone accessories.
Here is some detailed information about the company's USB HUB & Card Readers:

1 Port USB HUB and Card Reader
Support USB flash driver, USB card reader and mouse
Support SDHC, MMC, RS MMC, Extreme 3 SD, TF (Micro SD)
Support USB Hard disk Enclosure in FAT32 format
Support all kinds of mobile phone with OTG function (Samsung, HTC, Moto, LG, etc.)
Support Android 2.2 or above
"In addition to the high quality USB HUB & Card Readers, we also provide old and new customers with a simplified buying process. We want to make things convenient for global distributors. What's more, our online workers insist on offering great customer service," the CEO says.
About Hiconn Electronics:
Hiconn Electronics (Shenzhen Hiconn Electronics Co. Ltd.) is devoted to designing and manufacturing a wide range of connection cables and customized cable assemblies, offering many HDMI cables, VGA cables, SATA cables, USB cables, 1394 cables, DVI cables, SCSI (Small Computer System Interface) and more. For more information, please visit http://www.hiconn.net/.
Contact:
James Yin (Sales Director)
Shenzhen Hiconn Electronics Co., Ltd.
Shenghua Building., Xixiang Road.,
Baoan District, Shenzhen,
Guangdong Province, China
Zip Code: 518102
Tel: +86-755-8109 8345
Fax: +86-755-2779 3497