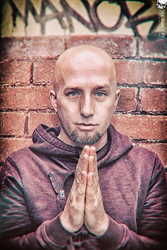 We literally break through walls of self-doubt and have spiritual experiences together.
Los Angeles, CA (PRWEB) August 27, 2014
Rock to Recovery brings the creative process through music into addiction treatment. Into the Heart of Addiction, the New Life House blog, highlights who these successful musicians are and why they are drawn to be of service to those struggling to get sober from drugs and alcohol.
Body: Former Korn guitar player, Wesley Geer, founded Rock to Recovery in 2012. Wesley struggled with his own addictions and knew first-hand the benefits of the creative process and how it heals. His friend and band-mate, Sonny Mayo shared his vision and together they help drug and alcohol addicted men and women heal during their journey to recover.
"We literally sit down with them and form a band. We share our experience with them – our relationship with music before and after recovering," Sonny shares during his interview with New Life House blog writer, Martha Lockie. Sonny, a guitar player who has hundreds of shows to his credit, opens up about his own recovery, how his creative process was affected by his own addiction and how music is a vehicle for change, even if the "band member" has no musical background. After the song is complete, Rock to recovery posts it to their Soundcloud page. To read Sonny's interview, click here.
Into the Heart of Addiction is the New Life House http://newlifehouse.com recovery community's resource for parents and families of substance abusing youth. Writers are recovered addicts and alcoholics, their parents and professionals, who supply the public with an in depth look at the reality of substance abuse and the family system. New Life House believes that change and recovery occur as a result of living in a peer-centered community where young people and parents are held accountable. "This is a process that cannot be side stepped; being accountable is essential and ultimately the saving grace for a drug addict," says New Life CEO Mike Joly.