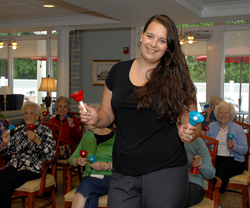 The Welch Group's Allerton House assisted living communities are in harmony with this Fall's theme for National Assisted Living Week, "The Magic of Music."
Norwell MA (PRWEB) August 29, 2014
Music is celebrated all year at Massachusetts' Welch Healthcare and Retirement Group Assisted Living Communities. This fall, the Welch Group's Allerton Houses are in sync with the theme for National Assisted Living Week, "The Magic of Music." The week-long 2014 Celebration from September 7 – 14 will focus on the way music engages and brings joy to older adults in assisted living residences. Assisted Living residents living in Welch Group communities in Duxbury, Hingham, Marshfield, Quincy and Weymouth, whose lives have revolved around or involved music, musicianship or song are featured in the company's assisted living newsletter , "Impressions" (Fall/Winter 2014).
For example, Dr. Gerry Wery, a resident of the Allerton House in Duxbury, is profiled in the fall issue discussing a famous Art Kane photograph that features almost 60 phenomenal jazz musicians in front of a Harlem brownstone. Others who are featured in the latest newsletter include Jeanette Champagne, the enrichment coordinator at the Memory Care Neighborhood at Allerton House at Harbor Park in Hingham. Champagne began a bell choir for residents, saying, "Music isn't just entertainment. It engages people. What happens when music brings a group together is truly magical."
Trudy Martell, photographed at the piano at the Allerton House in Weymouth talks about the music she loves and the memories she has from leading the musical group, Belles & Beaux, which her parents founded almost 70 years ago. In Quincy, Peggy Lovett, an assisted living resident at the Allerton House at Hancock Park, recalls her mother's fondness for musical variety shows and "the music of the 30s, 40s and 50s." Some of Ms. Lovett's favorites are Bing Cosby and Sarah Vaughn. Pauline Anderson, who makes her home at Allerton House at Proprietors Green in Marshfield, came from a family steeped in music. Everyone in the family played an instrument. She says is "was like we had our own orchestra."
Many of the residences also have music-themed activities planned for the fall. In Duxbury, a "Bring on Broadway" Dinner Show is being planned for September 7, while in Weymouth a Harvest Moon Festival featuring a German Oom-Pah Band is in the works for October 8. The Hingham Assisted Living Community will host a fall "Name that Tune" event on October 29. And in Quincy at Allerton House an evening Halloween Concert on October 30 will Feature Rick Walsh and Dave Becker.
For more information on Allerton House Assisted Living communities, visit: http://www.assistedlivingmablog.com
For more than 65 years, Welch Healthcare and Retirement Group has been providing continuum of care services to seniors and their families who may need housing or care options, including independent living, assisted living, short-term rehabilitation and long-term care, Alzheimer's care, adult day health or home care services. Residences and skilled nursing centers are located in Brighton and throughout the South Shore of Massachusetts including Braintree, Duxbury, Hingham, Marshfield, Quincy and Weymouth. To learn more visit: http://www.welchhrg.com