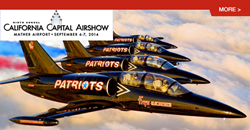 (PRWEB) August 31, 2014
Enthusiasts attending this year's California Capital Airshow at Mather Airport in Sacramento will once again witness the thrilling speeds and awe-insiring formations of the Patriots Jet Team.
The Patriots Jet Team is comprised of world-class demonstration pilots that super-charge audiences with signature aerobatic formations. Fans all over the country return to witness the raw power and precision of their jaw-dropping maneuvers.
As the only civilian-owned, six-jet team in the country, the Patriots Jet Team provides unique, in-air and grounded entertainment and sponsorship opportunities through its agent, Exact Market emMPaaS: Events.
"We are really looking forward to performing at the California Capital Airshow again this year," says Randy Howell, owner of the Patriots Jet Team. "Our elite team of pilots delivers a heart-pounding rush of adrenaline to the fans. It's a tremendous experience people won't want to miss."
The Patriots Jet Team will be performing their astonishing routine at the California Capital Airshow on Sept 6-7, 2014. For ticketing information, please visit:
http://www.californiacapitalairshow.com/
About the Patriots Jet Team
The Patriots Jet Team is the only civilian-owned six-aircraft aerobatic jet team in the United States. Featuring world-class pilots who are former members of elite military teams, the Patriots Jet Team delivers a wide range of innovative in-air, onsite and online marketing opportunities to organizations through Exact Market emMPaaS Cloud. Visit: http://www.patriotsjetteam.com
About Exact Market: emMPaaS Cloud Events
Exact Market is an established Silicon Valley-based marketing company who provides innovative, comprehensive and successful marketing campaigns and services for every sized organization: from Fortune 100 companies to small businesses. For more information visit: http://www.exactmarket.com/