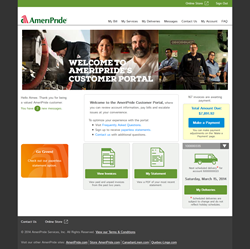 "The new customer portal will give them [customers] access to information and services they need, when they need it," said Andrew Steiner, VP of Marketing and Customer Operations.
Minneapolis, Minn. (PRWEB) August 28, 2014
AmeriPride Services, a leading textile services and supply company in North America, today announced the launch of its new Customer Portal, an online resource that makes doing business with AmeriPride even easier and more convenient for customers. The industry-leading digital tool allows customers to access account information online and better communicate with the company.
Features of the new customer portal include the ability to:

Access, download and pay bills online
View delivery dates with product and service information
Discover new products and services
Communicate directly with their service team
Move between the Customer Portal and Web Store with signal sign-on capability
Most importantly, this tool was designed for complete functionality from a smart phone, tablet or computer and is available 24/7.
"Feedback from our customers consistently ranked an interactive portal at the top of their requests, so we've listened and become one of the first industry players to offer this convenient tool," said Andrew Steiner, Vice President of Marketing and Customer Operations. "With many of our customers operating on-the-go and outside traditional business hours, the new customer portal will give them access to information and services they need, when they need it. Along with the other digital tools we're rolling out to our customers, we see this latest innovation as a big step forward in enhancing their day-to-day experience with us and advancing our customer service leadership."
AmeriPride serves a variety of industries including F&B (restaurants and bars), industrial (auto, manufacturing, oil and gas), heath care (clinics) and many others. The company offers rental, lease and direct sale of a variety of products including uniforms, safety apparel (including flame resistant and high visibility), floor mats, cleaning products, washroom supplies, linens and towels, paper goods and air care. In recent years the company has greatly enhanced and expanded upon its direct sales channels and capabilities.
The introduction of the Customer Portal follows the recent launch of AmeriPride's new Web Store platform and enhancements to its Custom eStores program. The Web Store platform provides customers who purchase products and services online with improved functionality for search, filters and uniform customization. Meanwhile, the Custom eStores program builds customized web stores for qualified customers to help them manage their uniform program and spending and allow employees to order specific, approved products.
For more on how these digital tools help improve the customer service experience, visit http://www.ameripride.com/digital-tools-2/.