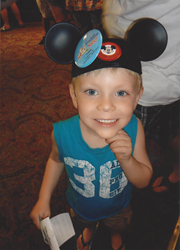 Detroit, MI (PRWEB) August 28, 2014
John Graham, Inc. is hosting its first golf outing this September 19th to benefit The Rainbow Connection, a non-profit Michigan-based charity organization dedicated to helping children with life-threatening illnesses by providing wishes. The partnership came about as a result of John Graham, Inc.'s desire to give back to the community in which it works.
The scramble tournament has an unusual hole-in-one challenge prize: an investment property.
"Being an investment firm, we wanted a prize that appealed to those in real estate or investing," said Vanessa Smith, Marketing Director. "And one of our houses is the perfect prize for those people, rather than a car like most charity events use."
John Graham, Inc.'s Golf for Wishes is not exclusively for investors and real estate agents, though. The public can sign up with 3 friends and play in the golf scramble. The event is being held at Cherry Creek Golf Club in Shelby Township on September 19th at 8:30 a.m. Meals are served throughout the day and tickets are only $75 each. All proceeds benefit the Rainbow Connection.
Attendees will also have the chance to bid on silent auction items, including jewelry from Rottermond Jewelers, an Edsel & Eleanor Ford House tour, an exotic race care experience, a cruise in Europe, and other unique items and experiences in order to raise more money for the charity.
John Graham, Inc. is still currently accepting sponsors for the event as well as donations for the silent auction.
Those who don't golf are welcome to donate however much they can without buying a golf ticket at http://www.JGIgolf4wishes.com. There is a "pay now" link at the bottom where the public can purchase tickets or donate. For more information, interested parties can contact either John Graham, Inc. (http://www.johngrahaminc.com) or the Rainbow Connection (http://www.rainbowconnection.org).
John Graham, Inc. is a Michigan based company that services both buyers and sellers. John Graham, Inc. specializes in the marketing, listing and selling of new homes, condominiums, undeveloped land, and commercial and investment opportunities. John Graham is redefining real estate through innovation, integrity and partnership. For more information, please call (586) 739-2900 or visit http://www.johngrahaminc.com.