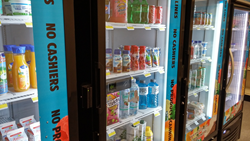 No Lines, No Cashiers, No Product Sanning
Boulder, CO (PRWEB) August 28, 2014
ShelfX, provider of revolutionary at-shelf buying and inventory management solutions, wants to know: 'Are you ready for an unattended convenience store?' The forward thinking company that pioneered at-shelf buying is welcoming interested companies, whether corporate offices, hotels, convenient store owners or franchisees, to their new Las Vegas showroom to experience the ease of shopping without lines, cashiers or product scanning.
The new showroom mimics a real-life unattended micro market, and is fully equipped with SheflX patent-pending 'wave before you take' technology. Entry to the convenient store is completely secured, requiring a wave of the shopper's pre-paid Xcard or swipe of a credit card.
Upon entering the cashierless convenient store, shoppers simply wave their Xcard again at the shelf or fridge and then select any dry, refrigerated or frozen products, in any quantity. Shoppers can also pick up products to get a closer look and return items to the shelf without being charged. Totals are automatically shown on display units at the shelf and immediately deducted from their account. In the case of fridges or freezers, closing the door completes the transaction.
So what is all the hype about? ShelfX micro market is unlike any other, providing a fully independent, secure and convenient shopping experience 24/7. For franchisees or owners, operational costs are minimized, without the need of having personnel onsite.
The back-end management software also provides the ability to track inventory in real-time and receive alerts when products are due for restocking. Detailed sales and product performance reports can be retrieved to maximize sales and improve business performance. Prices can also be adjusted on the fly to clear stock or offer a special timely promotion.
Interested companies or persons can also fully customize their installation, with any number of dry shelves, fridges or freezers that they desire. Options for facial recognition add-ons are also available where smart shelves instantly identify buyers' faces as they approach merchandise. This add-on offers consumers a faster, more intuitive experience in any vending environment.
"We are setup and ready to show the world just how revolutionary this new unattended micro market concept is, and have already welcomed interested businesses to our new Las Vegas showroom," explains Ran Margalit, CEO at ShelfX. "The possibilities for our unmanned convenient store are endless, and we look forward to working alongside companies and franchisees to customize the solution to meet their specifications."
For more information, contact ShelfX at info(at)shelfx(dot)com or call 1-855-4-SHELFX.
About ShelfX
No lines, no cashiers and no product scanning; ShelfX is pioneering at-shelf buying and inventory management solutions for grocers, sports stadiums, pharmacies, airport kiosks, offices, hospitals, schools and more. With the ShelfX Smart Shelves and NFC-based technology, organizations customize applications such as in-aisle checkout, in-office convenient stores, modern-day vending and stocking management solutions, all powered by ShelfX's wave-and-go access and payment processing. Forget lines and checkout counters; shopping and stocking with ShelfX is convenient, flexible and easy, helping organizations strengthen customer loyalty, increase shopper conversion rates, and better control inventory. For more information, visit shelfx.com