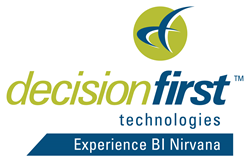 Our experts thrive on sharing knowledge and experience, and making it applicable to the current issues facing companies today.
(PRWEB) August 28, 2014
Decision First Technologies™ (DFT), a nationally recognized Business Intelligence thought leader, is honored to send several DFT analytic experts to speak at the 2014 ASUG SAP Analytics and BusinessObjects Conference, September 22nd -24th in Ft. Worth, Texas. Given the fact that this conference hosts some of the industries brightest analytic minds, DFT considers it a privilege to share information on our data governance success and the ever-expanding SAP BusinessObjects BI Platform in the Cloud.
"We are thrilled to be a part of the 2014 ASUG SAP Conference, not only as a sponsor but also as a part of the educational sessions. These sessions allow attendees to learn first-hand about real-life companies implementing effective BI solutions," states Amanda Wierling, Director of Marketing at Decision First Technologies. "Our experts thrive on sharing knowledge and experience, and in making it applicable to the current issues facing companies of all sizes today. We want to educate through knowledge sharing."
The DFT team will be present for the entire three day event and are available to meet and talk with conference attendees at their booth #204. DFT's Rich Hauser, along with Grifoils' Praneeth Padmanabhuni, will present on best practices and lessons learned from the Grifols project on Monday, September 22nd from 2:45pm – 3:45pm. Twesh Deshetty and Russell Lamb, both from DFT, will cover the Cloud BusinessObjects BI platform in their Tuesday, September 23rd presentation from 4:00pm – 5:00pm. Both presentations will include a question and answer session and access to the speakers following the sessions.
This conference is geared to business analytics and encourages attendees to tap into the experience of their peers and turn large data into easily understood reports and visualizations that drive real business results. Attendees have the opportunity to connect with SAP decision makers, culminating with Steve Lucas, Global President of SAP Platform Solutions, and Christian Rodatus, Senior Vice President and General Manager of SAP Analytics, keynote addresses.
To learn more about the ASUG SAP Analytics and BusinessObjects Conference, DFT's educational sessions or to receive the DFT registration discount click here: http://bit.ly/1lfK8Hl
About Decision First Technologies
A nationally recognized Business Intelligence authority, DFT delivers proven technical best practices and methodologies focused on user experience and adoption. An SAP Gold Partner and 7X Partner of the Year, DFT has earned the respect of the BI community by providing proven SAP solutions for Analytics, Enterprise Information Management, Data Warehousing, and SAP HANA to over 1,000 customers globally. Our recognized thought leaders share their expertise through speaking events, industry publications and authoring books such as the SAP Press best seller, Implementing SAP HANA. For more information on Decision First, visit http://www.decisionfirst.com/
©2014 Decision First Technologies. All rights reserved. Decision First and DFT are trademarks of Decision First Technologies. All other products and company names are trademarks or registered trademarks of their respective owners.