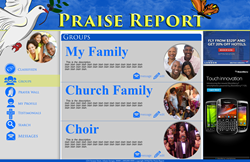 Sharing God's Love, Grace, and Healing around the world
Milledgeville, GA (PRWEB) September 10, 2014
Locally owned, The Praise Report, LLC a Georgia company founded by Tommie B. Merritt of Milledgeville, GA(USA) in May, 2014 announced that the company launched a new Christian social media network on September 3, 2014.
The Praise Report serves as a platform for globally connecting Christians. It is a gathering place to display God's love, promote a growing relationship with Jesus Christ, offer prayer, share testimonies and strengthen families and local churches worldwide.
The Praise Report, a social media network, invites churches, community groups, individuals and families to connect online at http://www.thepraisereportapp.com.
In addition an app is available in the iTune Store and the app for android phones is coming soon.
This tool is an amazing way to share good news and accomplishment of our youth, family and friends and sharing the grace and goodness of God.
Contact The Praise Report LLC at P.O. Box 341, Milledgeville, GA 31059 or phone 404-594-3227 or email info(at)thepraisereportapp(dot)com.