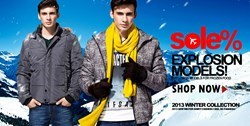 (PRWEB) August 31, 2014
Recently, Skmen.com, a well-known clothing manufacturer, has announced its promotion of 2014 long casual dresses. Before the middle of September, all the company's new and old clients can enjoy a discounted price, from 15 to 30 percent off.
As a matter of fact, all the company's long casual outfits are carefully made and come with quality guarantees. They can certainly create a graceful look for the wearers. Skmen.com is popular for its fashionable, high quality clothes for men and women. Its hot items include men's sweatshirts, spring dresses, sexy casual dresses, suits and long sleeve outfits.
The company's sales representative was happy when talking about these new items. "We are proud to unveil the new long casual outfits for clients. They are available in a lot of different colours and designs. At the moment, each of them is affordable. Moreover, we are providing discounted shipping fees for those who place an order before the deadline of the current special offer. I believe our customers can find their dream outfits on our website," he said.
"I love everything about the long casual outfit. It looks great. I know that your company has been working in the fashion field for a long time. All the products I bought from your shop are of top quality. Thanks," a customer reviews.
About Skmen.com
Skmen.com, a reliable company founded in 2009, is one of the leading suppliers of men's and women's high quality clothes. It has more than 5000 customers from every part of the world; it hopes to help worldwide stylish ladies and gentlemen. Now, it is selling thousands of fashionable items online. For more detailed information about the company and its wonderful items, readers can visit http://www.skmen.com/product-long-sleeve-dresses-003004007.aspx.