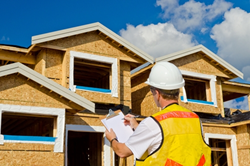 "July's increase in starts combined with rising builder sentiment proves that June's production dip was more of an anomaly than a reversal of the market
Chicago, IL (PRWEB) August 28, 2014
Lenders such as The Federal Savings Bank were pleased with the August 19th new residential construction data from the U.S. Census Bureau and Department of Housing and Urban Development revealed significant growth for housing permits, starts and completions in July.
Building permits for privately owned properties were at a seasonally adjusted annual rate of 1.052 units in July, an 8.1 percent increase compared to June's revised rate of 973,000. There was a 7.7 percent rise from July 2013's rate of 977,000. Permits in the single-family market did not have sizeable gains in July, rising only 0.9 percent from June. The multifamily market, on the other hand, climbed 23.6 percent month-over-month to reach a pace of 382,000 in July.
Housing starts exceeded economists' expectations
Noticeable gains were also seen for housing starts, and Reuters reported the figures were better than the 969,000-unit pace economists predicted. Groundbreaking for new homes reached a seasonally adjusted annual rate of 1.093 million units, up 15.7 percent compared to June and 21.7 percent compared to July 2013. This rate followed two straight months of declines and was the highest pace since November.
"July's increase in starts combined with rising builder sentiment proves that June's production dip was more of an anomaly than a reversal of the market," said David Crowe, chief economist of the National Association of Home Builders. "We should continue to see a gradual, consistent recovery throughout the rest of the year."
According to Reuters, the surge in housing starts indicates the U.S. real estate market is bouncing back after it was hit with high interest rates in 2013. The successes seen in July may be cause for the U.S. Federal Reserve to take a more relaxed approach to economic stimulus, Dan Greenhaus, chief strategist at BTIG in New York, told the news source. Additionally, the growth may prompt an increase in sales activity.
"A return to production levels over 1 million confirms that consumer confidence continues to improve," said Kevin Kelly, NAHB chairman. "Propelled by a healthier economy, more and more people are feeling ready to buy a home."
More inventory to meet buyer demand
Another positive development noted on the residential construction report was growth for housing completions. This increase indicates more properties will be available to consumers who want to make a new home purchase.
In July, completions reached a seasonally adjusted annual rate of 841,000 units. Compared to June's estimate of 811,000, there was a 3.7 percent rise. Between July 2013 and July 2014, there was an 8 percent improvement.
For the single-family market, housing completions were at a rate of 635,000, up 6.2 percent from June's revised rate of 598,000. Completions in the multifamily market experienced a 4.3 percent decline between June and July, dropping to a rate of 199,000.
To get affordable financing for one of the many new homes on the market, contact The Federal Savings Bank, a veteran owned bank.