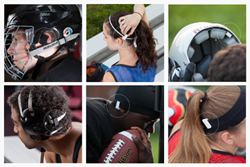 St. Louis, MO (PRWEB) August 29, 2014
Today, Jolt, a startup specializing in embedded sensor athletic gear, announces the launch of their first product, the Jolt Sensor, on Kickstarter.
The Jolt Sensor is a small clip that can easily attach to any piece of head-worn athletic equipment. When an athlete's head accelerates in a dangerous way the sensor vibrates to alert the athlete. It also connects wirelessly to parents' and coaches' smartphones on the sidelines. And with a range of over a hundred yards, the sensor stays connected anywhere on the field, so that a dangerous impact never goes unnoticed.
When a dangerous impact is detected, parents and coaches are immediately notified that the athlete should be evaluated on the sideline with the app's built-in cognitive test. The results of this test are compared with baseline scores and used with the impact data to enable parents and coaches to make more informed decisions. All of this important data is stored in the cloud, for quick and easy access and detailed analysis.
Jolt began as an engineering lab project at MIT following Founder & CEO Ben Harvatine's concussion at wrestling practice. The concussion was made worse, as it was not immediately detected and his already injured brain was exposed to additional dangerous impacts. This is a problem for many amateur youth athletes without access to adequate sideline technology and medical personnel for identifying and evaluating dangerous impacts.
Of the technology, Ben said, "This is the product that I wish I had growing up. And it's the product that today's young athletes need. I want to make sure that nobody has to go through an experience like mine, and, by recognizing injuries when they happen, rather than after the fact, we can ensure that athletes receive proper care when they need it."
About Jolt Athletics LLC:
Jolt is a startup based in St. Louis, MO that makes a wearable head impact sensor for youth athletes. Founded in Boston, MA in 2014, Jolt has worked closely with the
MIT Venture Mentoring Service and is a 2014 MassChallenge Finalist. They recently moved their headquarters to St. Louis after winning a $50,000 grant from Arch Grants, a Missouri not-for-profit corporation.