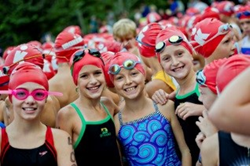 'The event has a positive impact on our city as it brings athletes and their families to stay in our hotels, eat in our restaurants and shop in our stores.'
Alpharetta, Georgia (PRWEB) August 29, 2014
For the sixth year, IronKids is returning to Alpharetta, Georgia on Sunday, September 14, 2014 at Wills Park. Over 1,300 new and returning participants from around the U.S. are expected to visit Alpharetta in order to compete in the race, which is the largest youth triathlon in the U.S.
Participants ages 12-15 (Senior) will begin at 7 a.m. with a swim in a lap pool. Athletes will then bike on closed roads and run on paved walkways and grass throughout the park. Ages 9-11 and ages 6-8 will follow on the same course. All participants will receive a commemorative medal upon crossing the finish line and the top three athletes within each age category will be awarded a placement trophy.
"We are excited and proud to host the IronKids Alpharetta Triathlon again this year," says Janet Rodgers, President and CEO of the Alpharetta Convention and Visitors Bureau. "The event has a positive impact on our city as it brings athletes and their families to stay in our hotels, eat in our restaurants and shop in our stores. We are looking forward to the event and wish all of the athletes good luck."
Distances for IronKids Alpharetta vary, depending on the age of the participants:

Ages 6 to 8: 50-yard swim, 2-mile bike and 500-yard run
Ages 9 to 11: 150-yard swim, 4-mile bike and 1-mile run
Ages 12 to 15: 300-yard swim, 8-mile bike and 2-mile run
For more information on registration and hotel accommodations in Alpharetta visit http://www.awesomealpharetta.com.