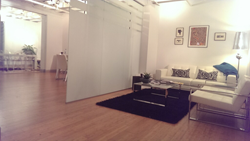 The new office is the quintessential environment to meet and collaborate with our clients.
Miami, Fl (PRWEB) August 28, 2014
In preparation for the Fall promotional marketing season, Quintessential Promotions announces a new office located in the heart of Miami's up and coming Design District. The new agency is headquartered at the Moore Building, sharing the prestigious locale alongside designed boutiques by Hermes, Cartier, and Christian Loubotin.
"Our agency specializes in client-focused model selection, promotion development, and event management," says company founder Katherine Quinn. "The new office is the quintessential environment to meet and collaborate with our clients."
The new Quintessential headquarters aligns well with the promotional agency's commitment to client-focused turnkey modeling services. Natural light floods through the open-office environment, giving clients the ideal place to meet and brainstorm upcoming promotional campaigns with the agency. The new office also features a studio complete with wardrobe and runway, so clients can get a sneak peak at the talent before the event.
And with Art Basel approaching in December, Quintessential excitedly invites artists and gallerists to learn more about the agency's experience in participating with art installations, demonstrations, and promotions.
"Last year, we had the pleasure of working with Klein Sun Gallery. Our models demonstrated the mobility of these fascinating paper sculptures by Li Hongbo," explains Ms. Quinn. "The videos went viral, and each of the 22 sculptures were sold by the end of Art Basel weekend."
Quintessential is pleased to announce partnership with Accelerank, Miami's leading responsive web design and online marketing agency. Together, the agencies maximize clients' reach and impact before, during, and after events through fully integrated experiential, print, search, and social marketing services.
Built on the notion that "Beauty captures your attention, personality keeps it," Quintessential has become a leader in providing upscale brands and artists with exceptionally professional models, talent, and event staff. Readers are invited to learn more about the agency, services, and browse Miami models online at http://www.qtpromos.com. To speak with a booking agent, readers may call Quintessential Promotions at (786) 505-1946.