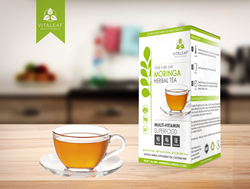 After seeing the improvements moringa had on my own health and those around me, it inspired me to become and advocate for this incredible tree.
Las Vegas, NV (PRWEB) September 02, 2014
Vitality Labs LLC announced the launch of its new brand Vitaleaf and their line of moringa oleifera health supplements and teas. Vitaleaf moringa powder and tea are sold through their website, on Amazon, and in local retail outlets.
Moringa oleifera is one of the world's most energy-dense superfoods with over 90 nutrients, 46 antioxidants, and 18 amino acids, including all essential amino acids. Its nutrient-dense leaves have been used in traditional medicine around the world for ailments such as poor circulation, high blood pressure, and high cholesterol, while also combating malnutrition. Compared to other foods, it contains 15x the calcium of milk, 7x the protein of yogurt, 4x the vitamin A of carrots, and 3x the potassium of bananas ounce for ounce.
"I first discovered the healing power of moringa while living in the Philippines," said Vitality Labs founder Daniel Walls. "It gave me an immediate and sustained boost of energy, and within minutes I felt the detoxifying effects on my body. After seeing the improvements it had on my own health and those around me, it inspired me to become an advocate for this incredible tree."
Modern Science Meets Old World Tradition
Vitaleaf moringa powder and tea is wild-grown in the rich mountain soil of the Philippines and sustainably harvested by hand in small batches, without the use of pesticides or fertilizers, benefitting the local farming community. "We focus on combining the best processing, extraction, and storage methods modern science has to offer with old world healing traditions. Our proprietary processing method and specially designed protective packaging ensure our products retain the maximum amount of nutrients and antioxidants, while avoiding oxidation," Walls continued.
One Dollar, One Tree Planted
Vitaleaf has partnered with the non-profit organization OneTreePlanted.org, offering online shoppers the ability to donate $1 with their purchase to plant a tree and fight global deforestation and help offset carbon emissions.
Website Launch
To celebrate the launch of the brand and website, Vitaleaf is giving away one year's worth of free moringa herbal tea to a winner each month for the rest of the year. To enter the contest, "like" Vitaleaf Moringa's Facebook page or follow them on Twitter. Detailed contest rules can be found on their website.
To learn more about moringa, Vitaleaf, and its products, visit their website at http://www.vitaleafmoringa.com.
About Vitality Labs
Founded in 2014, Vitality Labs LLC is a health food and supplement company that provides fresh, organic, natural health products from sustainable sources around the globe. By combining the best harvesting and processing methods modern science has to offer with time-honored traditions of herbalists and natural medicine practitioners, their mission is to create top quality products that help bring balance to a modern stressful life. Vitality Labs in a privately held company and is headquartered in Las Vegas, NV.
Media Inquires:
Nicole West
Media and Public Relations Coordinator
Vitality Labs LLC
1-702-907-3621
nicole(dot)west(at)vitaleafmoringa(dot)com
###