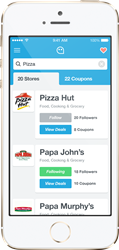 BluePromoCode for iPhone was designed specifically to relieve some of the pain points associated with mobile shopping.
(PRWEB) September 02, 2014
BluePromoCode today announced its new iPhone app, available for free download in the iTunes App Store. The app, which competes with mobile offerings from Retailmenot and Coupons.com, offers easy mobile access to BluePromoCode's database of 800,000 coupons from 30,000 retailers and stores.
The app was designed specifically to make finding coupons and completing e-commerce purchases easier on mobile phones. "We're seeing a increase in the number of shoppers transacting on their phones, so we designed our app from the ground up to relieve some of the pain points associated with mobile shopping," said Michael Quoc, founder and CEO of BluePromoCode's parent company, ZipfWorks. "With BluePromoCode for iPhone, our goal is to enable our users to complete their checkout experience with fewer taps, while also enabling them to find and apply working discount codes in the process."
BluePromoCode's mobile application is built using next-generation technologies, enabling broad coverage of coupons, location awareness, social features, and a high degree of personalization.
Some features to note:
Personalied coupon feed. Users can receive updates from only the stores they follow, all in one convenient news feed.
Printable coupons near you. On the go, users can see which stores near them are offering in-store promotions, which can be presented to the cashier straight from the app.
Shop with friends. BluePromoCode lets you see the coupons your Facebook friends are liking, providing a highly social shopping experience.
Broad coverage of stores. With thousands of coupons from over 30,000 stores published every day, BluePromoCode's app provides among the broadest coverage of any coupon app.
BluePromoCode is available in the iTunes App Store: https://itunes.apple.com/us/app/bluepromocode-coupons-shopping/id904955538?mt=8
About ZipfWorks
ZipfWorks, based in Santa Monica, CA, is a technology firm focused on building next-generation e-commerce experiences. The company's mission is to take the pain out of shopping through well designed applications that make various shopping tasks easier. The company operates a network of apps, including BluePromoCode (http://bluepromocode.com) and StyleSpotter (http://www.stylespotter.com).