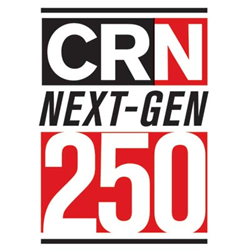 One of the primary values that Sactech brings to customers is to stay current of the newest and most innovative technology solutions in the market
Folsom, California (PRWEB) August 30, 2014
Sactech announced today it has been named to the 2014 CRN Next-Gen 250 list for the fourth consecutive year. The annual list honors up-and-coming technology solution providers who have adapted their businesses in unique ways to meet market demands for emerging technologies such as unified communications, managed services, virtualization, and cloud computing. These solution providers, each in business for less than 15 years, have embraced pressing market challenges in ways that clearly distinguish them as today's trailblazers and tomorrow's leaders.
Sactech helps companies that are struggling to network, secure, and connect to the next generation of technology. Embracing a unique approach to technology management, Sactech offers fast response, high-value alternatives designed with long-term "utility" type service for each client's IT environment. Certified in California as a Small Business, the company maintains partnerships with a number of networking, security, storage, virtualization, and other leading manufacturers. Sactech's team of certified engineers, subcontractors, and independent consultants have years of experience with many of the technologies they represent.
"One of the primary values that Sactech brings to customers is to stay current of the newest and most innovative technology solutions in the market," notes Sam Fadala, Sactech's VP of Technology Sales. "With our unique operational support model, we can respond quickly during the initiation, planning, and delivery phases of our customers' acquisition strategy, leveraging next-generation IP engineering designs and solutions for the benefit of their business. This award validates our continuing efforts and we are excited to have won this distinction four years in a row."
"IT is undergoing a transformation today, with new technologies, new delivery models and new demands being placed upon the integrators tasked with architecting the technology solutions businesses need," said Robert Faletra, CEO of The Channel Company, publisher of CRN. "The CRN Next-Gen 250 recognizes the up-and-comers among the solution provider community who have found innovative ways to address these business challenges and recognizes them as the next generation of leaders in the IT channel. We are pleased to be able to honor the organizations named in this prestigious list, and CRN editors will be following their progress in the years to come."
A sampling of the Next-Gen 250 list will be featured in the August issue of CRN, the top news source for solution providers and the IT channel, and will be available online at both http://www.crn.com and through the CRN Tech News App for iPad and Windows 8.
About Sactech
Sactech is a Next-Generation Value Added Reseller focused on sourcing, securing, networking, and managing technologies from cloud to closet. The Sactech team is committed to helping customers create an efficient and effective technology posture by offering a wide selection of technology solutions that enable clients to achieve their business goals. Sactech's value is delivered by the people who service and support the innovative technologies used by their clients. Learn more at http://www.sactech.com.
About The Channel Company
The Channel Company is the channel community's trusted authority for growth and innovation, with established brands including CRN, XChange Events, IPED, and SharedVue. For more than three decades, we have leveraged our proven and leading-edge platforms to deliver prescriptive sales and marketing solutions for the technology channel. The Channel Company provides Communication, Recruitment, Engagement, Enablement, Demand Generation and Intelligence services to drive technology partnerships. Learn more at http://www.thechannelcompany.com.