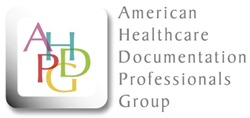 Shrewsbury, MA (PRWEB) September 02, 2014
The American Healthcare Documentation Professionals Group (AHDPG) today announced the launch of a Free-Tuition Guarantee for its ICD-10 Medical Coding Bridge Program. The purpose of this guarantee is to bring the highest level of confidence to students who are seeking to launch an exciting career as a medical coder, but are faced with the uncertainty brought on by the federal government's decision to delay the implementation of ICD-10 until October 1st, 2015.
AHDPG's Free-Tuition Guarantee is simple and available to any new student who enrolls in our Inpatient Certified Coding Specialist (CCA/CCS) or Outpatient Certified Professional Coding (CPC) Specialist Program between September 1st, 2014 and December 31st, 2014. All eligible students will be trained using the ICD-9 coding methodology currently being used by healthcare facilities across the U.S., and upon successful completion of their program, will receive a Free-Tuition Certificate for enrollment in our ICD-10 Bridge program at the time ICD-10 is implemented in October 2015.
By design, the AHDPG Free-Tuition Guarantee will cover 100% of each student's tuition cost when they enroll in the AHDPG ICD-10 Bridge program.
"We are thrilled to offer this guarantee to our students and bring some much needed confidence and direction to their selection process. This Free-Tuition Guarantee clearly separates us from our competitors," says Peter Reilly, President and CEO of AHDPG. "With all of the uncertainty being created in the healthcare industry, the entire team at AHDPG prides itself on bringing clarity and mentorship to individuals looking to launch an exciting career in medical billing and coding, medical scribing, medical assisting, and medical transcription. The launching of our Free-Tuition Guarantee is a perfect example of the value we place on our relationships with our students."
For more information on AHDPG's Free-Tuition Guarantee, please click here.
To learn more about our online training programs in medical billing and reimbursement, medical coding, medical transcription, medical scribing or medical assisting, please call our Admissions Coordinator, Lynn Calkins at (719) 404-3449 or visit our website at http://www.ahdpg.com.
About the American Healthcare Documentation Professionals Group:
The American Healthcare Documentation Professionals Group is a leading provider of healthcare documentation training and services. AHDPG was the first employer-owned training organization approved by the Approval Committee for Certificate Programs (ACCP), a joint committee established by the Association for Healthcare Documentation Integrity (AHDI) and the American Health Information Management Association (AHIMA). AHDPG provides "platform-independent" outsourced transcription services to hospitals and online training in the areas of medical transcription editing, medical billing, medical coding, clinical information management (medical scribe), and medical assisting delivered in a supportive environment. Students graduate ready to take their respective certification exams and gain employment in the healthcare documentation industry. To learn more, visit http://www.ahdpg.com.