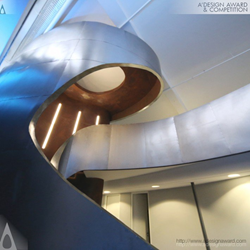 Como, Italy (PRWEB) August 29, 2014
A' Design Award and Competition is pleased to announce the interior design project "ajando Next Level C R M" by Peter Stasek has been awarded with a Golden A' Design Award in Interior Space and Exhibition Design Competition.
Winner Design: ajando Next Level C R M
Peter Stasek, the lead designer of the awarded interior design "ajando Next Level C R M" said, "A very unusual loft has been created in the Mannheim harbor district, Germany. The complete ajando team will live and work there starting in January 2013. The architect Peter Stasek and the loftwerk architect office located in Karlsruhe are behind the corporate architecture concept of the loft. It was inspired by the quantum physics of Wheeler, the architecture of Josef M. Hoffmann and, of course, the information expertise of ajando: "Information Makes the World Go Round". Learn more about this design at http://www.adesignaward.com/design.php?ID=26782.
Team Members for ajando Next Level CRM
ajando Next Level CRM was designed by architect Peter Stasek + team members: Luana Kroner-Stasek, interior designer + Dimitrios Ciatipis, CAD architect, in collaboration with Loftwerk architect office, Karlsruhe, Germany, lighting design: Steffan Möller, Licht-Team Speyer, gyrogrid constuction, matrix for digital fabrication: Patric Günther architect at Voxel-Studio, Detmold, Germany and photographer: Claus Morgenstern photodesign.
The Golden A' Design Award
The Golden A' Design Award is a prestigious award given to top 3% percentile designs that has achieved an exemplary level of excellence in design. Entries to the A' Design Award and Competition are peer reviewed and anonymously judged by an international 50-person jury panel of professional designers, architects, academics and press members. Laureates of the A' Design Award & Competition are eligible to benefit from PR and publicity services such as article feature at DesignAmid magazine as well as inclusion in World Design Rankings. Award winners are invited to the Gala-Night and Award ceremony in Italy to collect their trophies, yearbooks and certificates and to attend the exhibition of best designs at Mood.
About A' Design Award and Competitions
A' Design Award & Competition was established to promote good design practices and principles by featuring extraordinary designs in order to create a global awareness for good design worldwide. The ultimate aim of the A' Design Competition is to push forward designers, artists, architects and companies worldwide to come up with superior design projects that benefit society. Learn more and discover about A' Design Awards at http://www.whatisadesignaward.com.