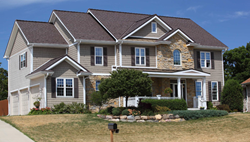 When Frank extended and invitation to partner with American Metal Roofs, we knew that it was the best direction for our company to go. They have been a great source of knowledge for us in our move to 100% metal installation.- Aaron Maytum
Flint, Michigan (PRWEB) August 29, 2014
Roofing companies across the country are aligning with American Metal Roofs (AMR) of Flint Michigan to receive industry knowledge and learn best practices within the metal roofing industry.
Roof Guard Company of Spirti Lake, Iowa is the latest business to accept the American Metal Roofs mentor-ship program. Serving Iowa, Minnesota, South Dakota and Nebraska, Roof Guard has aligned with AMR with a goal to install 100% Classic Metal Roofing Systems and to become the premier dealer and installer in the region.
Many businesses are moving away from selling asphalt roofing solutions in favor of metal since asphalt shingles aren't lasting or looking new for as long as they used to. Industry leaders believe that metal is the future of roofing. They also like that it is a green product that has a lifetime pro-rated warranty and that it is made in the USA.
"We chose American Metal Roofs because they have been very successful in the industry for many years. Frank Farmer and his team were at the forefront of the metal roofing industry when he began his company and are aligned with Classic Metal Roofing systems who have superior products and service. When Frank extended and invitation to partner with American Metal Roofs, we knew that it was the best direction for our company to go. They have been a great source of knowledge for us in our move to 100% metal installation".
Aaron Maytum- Owner Roof Guard Company
About Roof Guard Company: Roof Guard Company has been successfully serving the community with home improvement solutions for over 17 years. Offering residential and commercial roofing services including metal, asphalt and flat roofs. We use premium products from trusted manufacturers like Classic Metal Roofing Systems, GAF, Owens Corning, ER Systems, Duro-Last and Tuf Dek. Lifetime limited warranty, lifetime workmanship and extended factory warranties are available.
About American Metal Roofs: American Metal Roofs provides residential and commercial metal roofing products and services for the Michigan Lower Peninsula. At American Metal Roofs, we specialize in installing metal roofing from the leading manufacturers of permanent metal roofing.