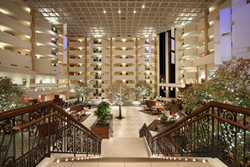 We have been fortunate to have repeat business at our Washington, DC area hotels," stated Tim Bowes, Vice President of Sales for Crescent Hotels & Resorts.
TYSONS, VA (PRWEB) September 02, 2014
With thoughts of getting the kids ready to go back to school on the minds of many Washingtonians, it's easy to forget that this is prime time for company meeting planners and office managers to be booking their organizations' holiday parties throughout the Washington, DC area. Crescent Hotels & Resorts' Washington, DC, area locations are preparing for the holiday rush.
"While we still have some dates available for holiday parties, the space appears to be going faster this year," said Mike Chouri, General Manager of the Sheraton Tysons Hotel. Chouri attributed this growth, at least in part, to the last month's opening of the Metrorail's Silver Line. "The phones started to ring just days after the Silver Line opened," stated Chouri. "A Metrorail stop adjacent to our hotel allows companies based throughout the Washington, DC area to select us for their holiday events and meetings. Today's DC area residents live in various local communities and Metrorail is always a good option for them."
Although the economy continues to improve, hotels are not taking the corporate holiday party market for granted and are working hard to get their fair share. "We have been fortunate to have repeat business at our Washington, DC area hotels," stated Tim Bowes, Vice President of Sales for Crescent Hotels & Resorts, which manages over 80 hotels throughout North America, including 12 locations in the Washington, DC area. Crescent Hotels & Resorts manages upscale brands in the Washington, DC area including Hyatt, Sheraton, Westin and Hilton.
When asked if the economy has affected company's spending money on perks such as corporate holiday parties, Bowes responded, "Yes and no. We have experienced some companies returning to past practices that focus on rewarding their employees for a job well done, while others remain cautious regarding additional spending. Regardless of the customer's financial position, our hotel teams have worked hard to deliver quality celebrations that are affordable for any budget. We know many of our clients wear multiple hats, so we have made it even easier for them. They can now check space at any or all of our DC area locations in just a few clicks at http://www.stayinwashingtondc.com/rfp."
Meeting planners are also getting more particular about the food and beverage they offer their attendees. "Food quality is more important than ever," said Claudia Eggspuhler, General Manager of a Reston hotel complex comprised of the Sheraton Reston and the Westin Reston Heights. "When looking for holiday party venues, our clients say they call us because they are looking for locations that have a local following." Executive Chef John-Michael not only manages the team behind the banquet events, but also oversees Vinifera Wine Bar & Bistro, the Westin's award winning restaurant. "Another reason we are often a first choice: event attendees like to have an upscale lounge to gather in after their event," added Eggspuhler. "And the hotel is able to extend attendees a preferred rate when they choose to stay overnight."
Another venue that has taken advantage of their menu's local appeal is the Westin Arlington Gateway. Located in downtown Ballston, two blocks from the Orange and Silver Lines, the Westin houses Pinzimini Restaurant & Lounge, a local favorite. "Executive Chef Bo Parker, who manages Pinzimini along with all our food and beverage outlets, is truly a local superstar with quite a following," said David Gibbons, the hotel's general manager. "Because of our personal service and attention to detail, it's easy to forget that we actually offer 11,000 square feet of event space, making us the ideal location for nearly any size holiday event."
Location also plays a key role when it comes to picking a venue for corporate and social events. "Being within walking distance from so many companies, makes us an easy choice," states Harold Bassler, General Manager of the Hilton Crystal City at Washington Reagan National Airport. "The local business community has really embraced us over the years. The icing on the cake is the recent renovation of our public space with more enhancements planned for later this year and early 2015."
Virginia hotels are not the only Washington, DC area venues to see an uptick in early bookings for holiday parties. "Because of our longstanding reputation as an active member of the community, we are, more often than not, one of the first choices for company holiday parties," said Mark Nelson, General Manager of the Hilton Washington DC/Rockville Hotel & Executive Meeting Center. "Our atrium lobby is always a big draw for events of all kinds." Nelson attributes the success of the additional holiday bookings to their new team member, Executive Chef Jean-Louis. "While we do have more holiday parties on the books than this time last year, with 25,000 square feet of function space, we still have some key dates available; but they are sure to go quickly," commented Nelson.
In a few months holiday decorations will start to fill retails shops as consumers will just start to think about the holidays. By this time, meeting planners will already be on to their next event.
ABOUT STAY IN WASHINGTON DC
Stay in Washington DC includes Crescent Hotels & Resorts' hotels located in and around Washington, DC. These properties are internationally recognized brands including, Hilton, Hyatt, Sheraton, Westin, Wingate by Wyndham, Cambria Hotels & Suites and Best Western. All hotels are in walking distance to a Metrorail or offer complimentary shuttle service that links guests to the city's world renowned Metrorail network. All locations offer various dining, shopping and entertainment options just minutes away via walking, shuttle or metro – including award winning restaurants right at several of the hotel locations. For more information, please visit http://www.stayinwashingtondc.com, like on Facebook or follow on Twitter.
ABOUT CRESCENT HOTELS & RESORTS
Crescent Hotels & Resorts is a nationally recognized, top-10 independent third-party operator of hotels and resorts. Crescent currently operates over 80 hotels and resorts, with close to 19,000 rooms in 29 states and Canada. Crescent is one of a small group of independent management companies approved to operate hotels under the Marriott, Hilton, Starwood, Hyatt and InterContinental flags. Crescent also operates a collection of legendary independent hotels and resorts. For more information, please visit http://www.chrco.com.