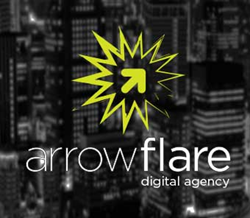 Local Experts Join Forces to Launch New Company with Big Aspirations
(PRWEB) September 02, 2014
In a world of dying conventional marketing, only new and innovative young thinkers can survive such a cutthroat industry.
After several years of independent success and passion, two young local experts have joined forces to launch a new company with big aspirations.
In an aggressive online world where every business needs a website, there is no place for a dull outdated interface. New changes in a market where one must now have an online site or otherwise be deemed invisible to the modern-day world leaves businesses with a necessity to adjust or be left in the dust.
According to Internet World Stats, a survey conducted by Nielsen online, said 85 percent of the population in North America are internet users. Traditional forms of marketing and advertising are quickly becoming obsolete.
There is an evident gap in the market where ArrowFlare feels they can give consumers what they need.
With accolades in the industry, the two partners Victor Azal and Yaniv Adany believe they provide their client's sales and marketing departments with the competitive edge needed to compete in today's advanced digitized world.
Azal has worked with big names such as Dish Network where his creative advertising and advertising optimization was crucial for expansion, but says it is equally necessary and possible for small to mid-size businesses to have the same online presence.
"Any business expecting to continue generating sales of their products or services must be able to attractively present themselves online to their targeted consumers," said Azal.
According to the Monetate E Commerce Quarterly statistics, the United States online conversion rate of people who enter a site to then proceeding to actually purchasing a product or service is at a low of 3%.
Adany and Azal have worked separately with companies to build online storefronts generating thousands of daily sales. Their numbers Adany said, speak for themselves. The two were able to increase conversion rates from 300 percent to 500 percent, he said.
"Our approach is simple. First we consult and must do market research to determine who the audience is that the business wants to target. Second, we collaboratively design a website to meet high conversion rates for the company and begin developing it. The final step is to optimize the newly designed and developed site to be seen on search engines supplemented with various advertisement campaigns and marketing techniques to provide the client with the right traffic and visibility they need to succeed."
A study done by the Chitika team back in 2010 shows that 97 percent of search engine users don't scroll past the first page results to find what they were looking for.
In a fast paced world where everyone wants things done at the touch of a mouse click, people can't afford to spend time looking for the right product or service provider.
Azal and Adany are experts at making companies visible to people who are looking for what they specialize in.
With such innovation necessary in today's market, ArrowFlare is destined to make a splash in the online marketing industry.