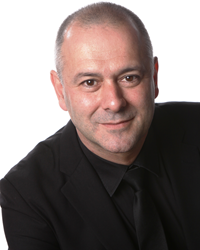 (PRWEB) August 31, 2014
Luca Foffano signs PR contract and record deal on the same day!
Italian tenor Luca Foffano is making his presence known in the USA after achieving much success in Europe and Moscow. He is in the professional, experienced hands of Double XXposure Media Relations.
In a business where style and image is equated with substance, Angelo Ellerbee has few peers when it comes to creating impact. Always generous and community-oriented, Ellerbee has made his image-making skills available to TV outlets such as CNN, The Maury Povich Show, and many more. His makeover of a homeless woman for Maury Povich caused a sensation in the industry.
Ellerbee's professional direction is rooted in the old-school principle of ensuring the all-around preparedness of the artist. He has taken his cue from Motown Records impresario Berry Gordy and has adapted that winning strategy to serve contemporary artists. Ellerbee's tenacity and adaptability has enabled him to attract superstar clients such as Michael Jackson, Beverly Sills, Dionne Warwick, Alicia Keys, Lionel Richie, and Mary J. Blige, as well as reggae stars like Patra and Shabba Ranks. Ellerbee's unwavering commitment to the complete development of artists has positioned Double XXposure among the leading entertainment industry public relations and marketing companies.
Look for Luca's EP, scheduled for release October 2014, and his new CD, featuring a unique blend of Italian classics, original recordings and top favorites with a new twist, scheduled for October 2015.
Luca Foffano – Meet and Greet with Musical Performance:
Sunday, October 12
Gastronomie 491
491 Columbus Avenue
New York, New York
"Gastronomie 491 Fall Fling: A Celebration Italian Style"
By reservations only: brunch Sunday, October 12th between 12-4pm.
Guests can reserve by emailing: info(at)gastronomie491(dot)com
or by calling: 212 974-7871 with the requested time, name, and number of people in the party.
For more information contact:
Double XXposure Media Relations
Theellerbeegroup(at)aol(dot)com
or by calling (212)629-9404 or (201) 224-6570