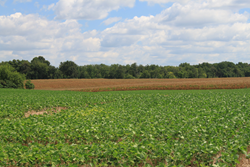 This auction poses the perfect opportunity to farmers and investors seeking cropland with a prime location, excellent yields and a competitive atmosphere
KANSAS CITY, Mo. (PRWEB) September 02, 2014
Eligible buyers will soon have the opportunity to purchase 295 total acres at this multi-tract cropland at auction. The live event will be held on-site – 635 Neosheo Prices Mill Road in Franklin, Ky. – on Saturday, Sept. 27 at 10 a.m. CDT.
"This auction poses the perfect opportunity to farmers and investors seeking cropland with a prime location, excellent yields and a competitive atmosphere," said Ron Kirby Jr., co-owner and principle broker of United Country – Heartland Realty & Auction. "By taking advantage of this opportunity, buyers can access property with promising investment returns and close proximity to several key industries."
Tract 1 includes approximately 92 total acres and includes a mobile home, 40x100 metal equipment and hay storage building, a 30x40 metal equipment tool shed and a 20-footeasement through Tract 3 to Tract 1. Tract 2 includes approximately 95 total acres and includes 536 feet of road frontage, as well as the potential to clear land for additional acreage. Tract 3 includes roughly 107 acres on 1,989 feet of road frontage along State Highway 1885.
Detailed information about the property for sale can be found online at SimpsonCountyCroplandAuction.com or by calling 270-783-3000.
About United Country Real Estate
United Country Real Estate – a division of the United Real Estate Group – is the leading, fully integrated network of conventional and auction real estate professionals. The company has been an innovator in lifestyle and country real estate marketing since 1925. United Country is the only franchise company to specialize in small city, town, second home, vacation, retirement, coastal, mountain, recreational, ranches, farms, timberland, land, equine, livestock, investment and other lifestyle properties outside of metropolitan markets. United Country supports nearly 600 offices and 5,000 real estate professionals across four continents, with a unique, comprehensive marketing program that includes the highest ranked and largest portfolios of specialty property marketing websites, the largest real estate marketing services company, an extensive buyer database of more than 500,000 opt-in buyers and exclusive global advertising of properties.