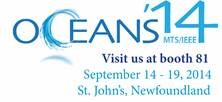 Oceanworks International will present two papers at Oceans' 14.
Vancouver, British Columbia (PRWEB) August 30, 2014
OceanWorks International will be exhibiting at the OCEANS' 14 Conference in St. John's Newfoundland September 14th to September 19th at the St. John's Convention Centre Booth #81. Over 130 companies and organizations with a focus on the marine Industry will be exhibiting at this year's OCEANS.
OceanWorks will be presenting two papers at the conference on Wednesday, September 17th, in Salon B regarding "Power Source Management and Electrical Fault Mitigation in Seafloor Networks" and "Software Configurable Smart Ports in Subsea Networks."
OceanWorks International is an internationally recognized subsea technology company specializing in the design and manufacture of manned/unmanned subsea systems and specialized equipment for the oil and gas, scientific, military, and other marine markets. Offering a full range of subsea system engineering, design and analysis, fabrication, testing, and project management services, OceanWorks has been at the cutting edge of deep submergence and diving technology, operations, and support for over 20 years.
For more information on OceanWorks International products and services, please visit our website at http://www.oceanworks.com/ or contact us at marketing(at)oceanworks(dot)com.