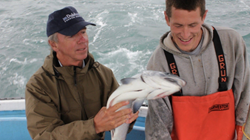 "Salmon is the healthiest seafood available and Duke's is a source you can trust." Duke Moscrip
Seattle, WA (PRWEB) August 31, 2014
Just in time for Washington's Indian Summer, Dukes Chowder House is serving up only wild, sustainable Alaska Salmon, award winning chowder and legendary sourdough bread on their outdoor deck at the Duke's Green Lake location, Sunday, September 28, 2014 from 1 pm to 5 pm. Guests can expect to sample several ethnic salmon BBQ culinary delights. Live music will add to the festive neighborhood gathering.
BBQ Salmon recipes from Hawaii, Puerto Rico and Mexico will be featured. "There is no salmon swimming in the waters of these countries but their cuisine provides the perfect complement to our wild Alaska salmon," says Duke Moscrip, founder & owner of Duke's. Join Chef Wild Bill and Duke who will be on hand to meet and greet guests. Sample all three salmon dishes, chowder, sourdough bread and specific wine and beer pairings for $39.
Afterwards guests can purchase wild Alaska salmon, Duke's award winning clam chowder and legendary sourdough bread to BBQ at home while the Indian Summer continues. "Salmon is the healthiest seafood available and Duke's is a source you can trust," Duke adds.
Duke invites one and all to attend this sure to inspire event at its Duke's Green Lake location. Make your reservations to attend today at 206.283-4452.
About Dukes Chowder House
Dedicated to bringing its customers the best every day, Dukes Chowder House operates six restaurants throughout the Puget Sound region and boasts membership of 156,000 in its popular email club. Founder and Owner Duke Moscrip - together with his son and partner John Moscrip - continue their passionate journey to source all natural, healthy and fresh ingredients. Duke's food is free of hormones, antibiotics and free of harmful chemicals. Moscrip pioneered the concept of "ice chilled, better than fresh." Duke's is an upscale casual Pacific NW seafood concept offering signature, flavorful, 100% sustainable wild seafood, award winning chowder and grass fed burgers in a gathering place that is friendly, comfortable, unpretentious and filled with personality. Guests sum up their favorable assessment of what Dukes Chowder House has to offer with three words: It's so good! Learn more and join the email club at Duke's Chowder House email club.