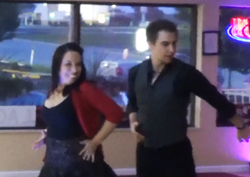 Certification makes teachers better teachers.
St. Peters, MO (PRWEB) October 31, 2014
Anyone can hang a sign on a storefront or put up mirrors in the basement of a private home and open a dance studio in the United States. But experienced dancers, teachers, and studio owners recognize, not all dance teachers know what they're doing. That's where certification can help—but only if studio owners and teachers are willing to take the time and expense to seek training.
Recently Dance Pizazz (http://www.dance-pizazz.com) was willing to take the time and expense to invest in their studio, which will ensure students are getting the value they deserve. Mike McAllister and Nikki McElvain are now officially certified dance instructors in American Smooth and American Rhythm through Dance Vision recognized by the National Dance Council of America (N.D.C.A.) the highest governing body for dance professionals in the United States.
Knowledge is power. Dance studios will change and demand higher standards from their teachers when the public does; and the public will demand the change as they learn of the value of certification. Not only is the certification process designed to enrich a dance instructor's knowledge of all aspects of dancing and teaching but it also provides the following additional benefits.
It makes teachers better dancers. Preparing for a certification exam expands a teacher's understanding of dance concepts, improves their verbal and presentation skill, teaches precise vocabulary for describing technical elements of figures, sharpens knowledge of musical terms, and enhances their choreography skills.
It makes better teachers better teachers. Upon successfully passing an exam, teachers will receive a certificate proclaiming their expertise to the world. Teachers that are certified are highly valuable in studios across the country. Certification for a teacher proclaims their aptitude with National Recognition of their skills.
Mike McAllister and Nikki McElvain have gone through rigorous and extensive training and testing, which took hundreds of hours to complete. They were tested by certified credentialed examiner in the following dances: Waltz, Tango, Foxtrot, Cha Cha, Rumba, East Coast Swing, Bolero, Mambo, Samba, and West Coast Swing, in their ability to dance and teach both the man and the woman's dance patterns. Additional dance elements they covered included lead, follow, technique, music count break-down, theory and finally troubleshooting problems. So rest assured, when taking lessons at Dance Pizazz (http://www.dance-pizazz.com) students can be confident they are receiving high quality instruction.