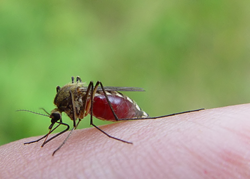 Avoiding mosquito bites is the key to preventing infection with chikungunya and other mosquito-borne diseases
Toronto, Canada (PRWEB) September 03, 2014
Sitata is monitoring a historic chikungunya epidemic that has hit the Western Hemisphere, but has been largely overshadowed by the recent ebola outbreak. In January 2014, the very first case of chikungunya fever ever seen in the western hemisphere was found on the island of St. Martin. Only 8 months after the first case was diagnosed early this year, the virus has rapidly spread to 33 countries that have reported over 625,000 cases, according to the Pan American Health Organization in Washington, D.C.
For the first time, chikungunya fever has been found in countries ranging from the USA all the way to Argentina. The Dominican Republic, a major tourist destination, has over 400,000 cases alone. Infected travellers are the reason chikungunya fever has spread so quickly. Tourists who become infected with this illness while on a holiday may feel fine while the virus is incubating. After returning home, they become ill and spread the virus to local mosquitoes which can infect other people.
Sitata has been monitoring this outbreak from the beginning, following the epidemic as it spread from country to country, and has posted over 140 travel alerts for travellers since January, 2014. When travellers register their itinerary with Sitata, they automatically receive these alerts which help them avoid problem areas and remind them to take precautionary measures.
To help travellers minimize their risk of becoming infected, Sitata recommends that travellers follow all necessary precautions to avoid mosquito bites. The use of appropriate insect repellents containing DEET is an exceptionally effective measure. If travellers are using sunscreen, they should apply the sunscreen first and insect repellent second. Additional measures include staying and sleeping in screened or air-conditioned rooms. When outdoors, mosquito bites can be minimized by wearing long-sleeved shirts, long pants, and hats whenever possible. If windows are not screened, use an insecticide-impregnated bed net, especially if sleeping in areas exposed to the outdoors.
Public health officials are unsure how far chikungunya will spread in the Americas. According to the Centers for Disease Control in the USA, chikungunya virus will likely continue to spread to new areas in North, Central, and South America through infected people and mosquitoes. "Avoiding mosquito bites is the key to preventing infection with chikungunya and other mosquito-borne diseases," according to Clint Sperber, Deputy Administrator, Florida Department of Health-St. Lucie County.
"Recently the ebola outbreak in West Africa has received a great deal of media attention. Although ebola is more lethal, chikungunya fever is much more easily spread and can have long-term debilitating effects," said Dr. Ronald St. John, former Director General of the Centre for Emergency Preparedness and Response at the Public Health Agency of Canada. "While ebola has only spread among a few countries, chikungunya has affected more than 30 countries so far."
Sitata, a free service which keeps travellers safe, has been monitoring this epidemic since the first case was reported and has provided real-time travel alerts and advice to travellers on how to minimize the risk of acquiring chikungunya fever.