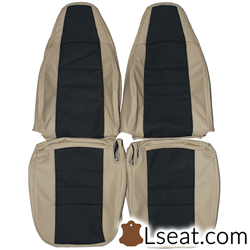 (PRWEB) September 02, 2014
Lseat.com is one of the most popular suppliers of useful leather seat covers. All its products are user-friendly items; no professional installation is required. Customers do not need to remove their original seat covers; they can slip right over the cars' seats. That can save plenty of time for the users. Now, the company's website is filled with various kinds of practical covers.
In addition, it has recently unveiled its new designs of Jeep leather seat covers. Also, the company has launched a special offer on these high quality items. The current discount is up to 28 percent off; all customers can enjoy the low prices before the deadline of this promotion (September 06, 2014).
Each of Lseat.com's new products is elegant and durable. All of them are well made by the company's experienced workers. As one of the industry pioneers, Lseat.com feels obligated to offer more wonderful seat covers for the global customers. Its Jeep Wrangler TJ leather seat covers are extremely popular in the market.
What's more, the company is offering custom fit and universal fit covers for different cars. Along with Jeep leather seat covers, it has also released many other new designs in the recent months, including Chevrolet leather seat covers, Mercedes leather seat covers and BMW E46 leather seat covers.
About Lseat.com
Lseat.com is a globally accomplished supplier of leather seat covers, and this company has developed into a modern enterprise that offers its customers around the world a one-stop seat cover solution. The business is committed to providing premium quality products at competitive rates. Now, it has been serving a large number of customers from over 70 countries.
For more information about their leather seat covers, please visit http://www.lseat.com/.