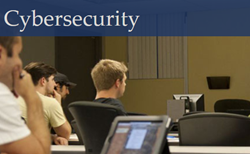 Baltimore, MD (PRWEB) September 17, 2014
UMBC's Cybersecurity Graduate Programs' Virtual Information Session will be held on Thursday, October 23, 2014, from 12 - 1 p.m. EDT The session will provide an overview of the program's innovative curriculum and practice-oriented instruction, designed for working professionals. Participants will also learn how a graduate degree can help advance their career in the cybersecurity industry.
According to a report by Burning Glass Technologies, Cybersecurity job postings have grown 74% from 2007-2013. This growth rate is over 2x faster than all IT jobs.
If interested in attending, please RSVP online.
About UMBC's Cybersecurity Graduate Programs
UMBC offers a variety of master's degree and certificate options. Our cybersecurity graduate programs leverage a student's experience toward a range of opportunities within the cybersecurity profession. UMBC's in-person cybersecurity programs are designed to prepare computer science, information systems, and other experienced professionals to fill management and leadership roles in cybersecurity and cyber operations.
UMBC is uniquely positioned to provide education and training that respond to the state's need for qualified technical professionals in the cybersecurity field. UMBC is certified as a Center of Academic Excellence in Information Assurance Education (CAE) as well as a Center of Academic Excellence in Research (CAE-R) sponsored by the National Security Agency and Department of Homeland Security (DHS).