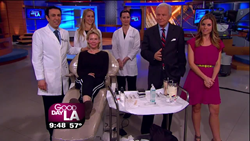 Los Angeles, CA (PRWEB) September 02, 2014
On August 30, 2014, Harper's Bazaar Magazine posted an article on its website titled "Why You Should Wash Your Face." According to the article, more than 80 percent of the global population breathes air considered polluted by the World Health Organization. Liquid droplets and particles of pollution lodge in the skin's pores destroying its natural oils. These oils act as the body's natural barrier to free radicals that may cause cell damage, redness, aging skin, irritation, and collagen breakdown. (see: goo.gl/I4pgDT)
Dr. Simon Ourian, Medical Director of Epione Beverly Hills, performed a stretch mark removal procedure on Kim Kardashian during the Feb 23, 2014 episode of Keeping up with the Kardashians titled "2 Birthdays and A Yard Sale."
"I can't say definitively how much skin damage is caused by pollution," says Dr. Simon Ourian, "but combined with sun exposure, the consequences can be cumulative and significant. I believe it is very important to wash one's face properly each day before going to sleep."
According to the Harper's Bazaar Magazine report, all the experts polled agreed that a sonic facial cleansing brush is a must-have. Cleansing balms are recommended for aging or dry complexions, while oils are suggested for sensitive skin.
"One should be careful not to over-scrub as this can lead to inflammation," says Dr. Ourian. "Day creams may help with prevention and no one should ever leave the house without applying sunscreen."
Dr. Ourian has been a pioneer in laser technology and non-invasive aesthetic procedures including Restylane, Juvéderm, Radiesse, Sculptra, and CoolSculpting. These treatments are used for the correction or reversal of a variety of conditions such as acne, acne scars, skin discoloration, wrinkles, unwanted fat, stretch marks, varicose veins, cellulite, and others. More information about skincare can be found on Epione's website.