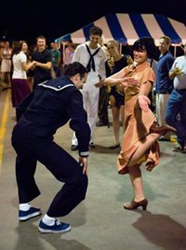 Saint Paul, Minnesota (PRWEB) September 03, 2014
The Commemorative Air Force Minnesota Wing Museum located in South Saint Paul, MN announced today they plan to unveil a mural depicting the US involvement in WWII.
The mural was designed and painted by local artist Brad Hopkins of Section 8 Designs. He has been working on the 46 foot mural over the past two years to tie together important pieces of the US involvement during the War. Brad's involvement in the MN Army National Guard helped spark his desire to donate his time and talent to the project.
The unveiling of the mural comes in time for the museum's Fall Bombers Moon Ball which will be held Saturday, Sept 6 at Fleming Field.
The unveiling will take place Friday, Sept 5 at 5pm with a chance to meet the artist and tour the museum. For more information or directions to the museum visit http://www.cafmn.org
The Commemorative Air Force Minnesota Wing was formed in 1971 as the first detachment of the then Confederate Air Force. The Wing was originally established to operate as a maintenance support arm to help the CAF's mission and its ever growing fleet of rare aircraft.
Today, the Commemorative Air Force Minnesota Wing is home to six aircraft, a large motor pool fleet, and a unique collection of World War II artifacts that are on display.
In 1957, a small group of ex-service pilots pooled their money to purchase a P-51 Mustang, beginning what is now called the Commemorative Air Force (CAF). With the addition of a pair of F8F Bearcats, the CAF became the founders of the Warbird Movement, an effort to preserve and honor our military history with the rallying cry to "Keep 'Em Flying!" Nearly 60 years later, the CAF is the premier Warbird organization, with a fleet of 164 vintage aircraft. A non-profit educational association, the CAF has more than 11,000 members and its fleet of historic aircraft is distributed to more than 80 units located in 26 states. For more information, visit http://www.commemorativeairforce.org or call (432) 563-1000.