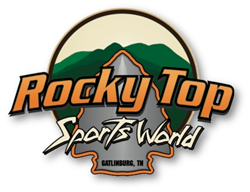 Situated in Gatlinburg, Tennessee, Rocky Top Sports World is a one-of-a-kind sports experience.
Gatlinburg, TN (PRWEB) September 03, 2014
Rocky Top Sports World, the country's newest sports tournament facility in Gatlinburg, Tennessee, is opening its doors for all to see. The official ribbon cutting and open house event will be held Tuesday, September 9, 2014. Dignitaries and officials will celebrate with a ribbon cutting beginning at 11:30a.m., with lunch to follow. The festivities will continue from 2:00p.m-7:30p.m. with an open house including inflatables and free public gym and field play.
Special guest speakers for the ribbon cutting include Rocky Top Sports World ambassador and College Football Hall of Fame Coach Phillip Fulmer and Tennessee Department of Tourist Development Commissioner Susan Whitaker. Fulmer and Whitaker will join City of Gatlinburg, Sevier County and Sports Facilities Advisory officials in celebrating the launch of the state-of-the-art sports complex.
Rocky Top Sports World bookings have surpassed opening year goals by 30%, with 31 events currently scheduled. Tournament planners credit the world-class facility, stunning views and proximity to the shopping, dining and attractions of Gatlinburg as their reasons for bringing hundreds of teams to the Smokies. Youth sports is the fastest growing segment in the travel industry and creates opportunity to introduce the Smoky Mountains to new visitors. The City of Gatlinburg and Sevier County have joined together to create Rocky Top Sports World and to create a one-of-a-kind sports experience in efforts to benefit from the emerging trend.
Taking the game of sports tournament destinations to a higher level, the venue is nothing but accommodating with much more than just play space and award winning facilities. The $20 million dollar complex is home to 7 outdoor lighted fields, a championship stadium and ample parking. "The Rock" indoor complex houses 6 regulation hardwood basketball courts, team rooms, referee locker rooms and Champs's Grill. The Rocky Top Sports World campus also features additional space to accommodate up to 14 youth soccer fields and 17 volleyball courts.
The Sports Facilities Advisory (SFA) and Sports Facilities Management (SFM) were engaged to lead in planning, opening and management of Rocky Top Sports World. As the country's leading resource for youth and amateur sports facilities, the goal for SFA and SFM is to dramatically improve the health and economic vitality of the communities they serve.
Rocky Top Sports World is located in the heart of the Great Smoky Mountains, at 1870 Sports World Boulevard, in Gatlinburg, Tennessee. For further information, visit http://www.RockyTopSportsWorld.com or call 865.325.0044