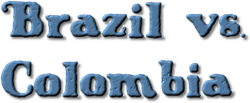 Miami, FL (PRWEB) September 02, 2014
After respective performances in the 2014 World Cup, Brazil and Colombia will compete against each other on September 5th at Sun Life Stadium. The World Cup allowed the world to see some of the brightest stars in the world of football in Colombian and Brazilian stars. Diehard soccer fans in Miami will be treated to some of the best talent in the world in early September.
Brazil is currently ranked as the 7th best team in the world according to FIFA. The host nation of the 2014 World Cup was originally favored to win their record sixth World Cup, but those hopes sadly ended with their embarrassing 7-1 loss in the semifinals against Germany. The team came into the World Cup with hopes of winning it all especially after their successful run in the Confederations Cup the year earlier. Now, they will look to build their momentum for the 2018 World Cup in Russia.
Colombia had an impressive performance at the 2014 World Cup in Brazil. They won their group with a 3-0 record, defeating Greece, Ivory Coast, and Japan with a +7 goal differential. They then endured a Luis Suarez-less Uruguayan team 2-0 before dropping to Brazil, 2-1. Players from the Colombian national team include: James Rodriguez, Captain Mario Yepes, Abel Aguilar, Adrian Ramos, and Juan Camilo Zuniga.
Members of the Brazilian national soccer team include: Oscar dos Santos Emboaba, who scored the lone goal against Germany, Neymar da Silva Santos, Givanildo Vieira de Sousa (Hulk), Marcelo Vieira da Silva and Thiago Silva. Silva's absence in the semifinal because of yellow cards was obviously missed by the Brazilian squad as their defenders appeared lost without their defensive captain. He will hope to make it up to the team and their fans by preventing Rodriguez and company from getting their offense rolling.
Sun Life Stadium is the home of the Miami Dolphins from the National Football League. The venue originally opened in 1987 and is also the home of the Miami Hurricanes college football team and the Discover Orange Bowl. In its history, the venue has hosted five Super Bowls, two World Series, four BCS National Championship football games, WrestleMania XXVIII, 2010 NFL Pro Bowl, and more. When Brazil and Colombia play there in September, fans will fill the stadium to see two of the best teams in the world.
About Dazzling Deals Tickets:
Dazzling Deals Tickets has been in business since 2007, and this trusted ticket site provides tickets to sold out concerts and events worldwide at discounted prices. Dazzling Deals Tickets also has cheap Brazil vs. Colombia tickets at Sun Life Stadium. Add promo/coupon code CHEAP for added savings on any ticket order.
Disclaimer: Dazzling Deals Tickets is not associated with any of the soccer teams or venues mentioned in this release. The names that are used in this release are purely for descriptive purposes. We are not affiliated with or do we endorse any artists or venues in this release.