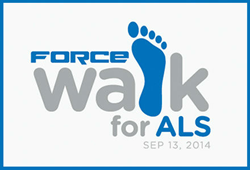 ATLANTA, GEORGIA (PRWEB) September 03, 2014
Force Marketing, a leading provider of automotive marketing services to auto dealers and Tier II organizations across North America, will be participating in the upcoming Atlanta Walk to Defeat ALS to contribute to the fight against amyotrophic lateral sclerosis.
Amyotrophic lateral sclerosis, also known as ALS or Lou Gehrig's Disease, is a neuromuscular disease that affects a sufferer's ability to walk, speak, breathe and more. The average life expectancy of a patient diagnosed with ALS is about 2 to 5 years after diagnosis, and the disease currently has no known cure. The ALS Association strives to spread awareness, support research and assist sufferers and their families.
"We're incredibly proud to be participating in the Walk to Defeat ALS here in Atlanta," said John Fitzpatrick, CEO and President of Force Marketing. "ALS is a terrible disease that affects far too many individuals and their families, and we're thankful for this opportunity to do our part to contribute to research and support for ALS patients."
The nearly 80 associates that comprise the team at Force Marketing, as well as some of their friends and family, will be participating in the walk itself. Each participant is encouraged to raise funds for the cause, and the Force Marketing team has an overall goal of $5,000 to raise for the fight against ALS.
In August, Force Marketing was called upon to participate in the ALS Ice Bucket Challenge by automotive website provider DealerOn and progressive ad agency Frankel Media Group. The team rose to the challenge, raising $2,200 in the process for the ALS Georgia Chapter, and that video can be found on the firm's YouTube Channel at http://youtube.com/forcefeedtv.
The 2.5-mile Atlanta Walk to Defeat ALS will take place on Saturday, September 13 at 10 a.m. at the Georgia World Congress Center International Plaza. Find out more, or donate to the Force Marketing team's fundraising efforts, by visiting http://bit.ly/1p8Jtm5.
ABOUT FORCE MARKETING
Force Marketing is an automotive direct mail and digital marketing company headquartered in Atlanta, Ga. The company offers marketing services to an expansive client base throughout the U.S. and Canada. The company made Inc. magazine's 500|5000 list of the fastest-growing private companies in the U.S. in 2014 for the sixth consecutive year. More information about their auto dealership marketing services can be found online at http://www.forcemarketing.com.