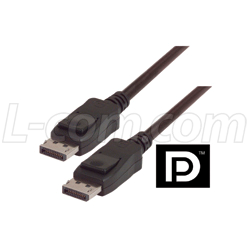 The addition of the new LSZH DisplayPort cables magnifies the fact that L-com's selection of LSZH jacketed cable assemblies is unrivalled in our industry
North Andover, MA (PRWEB) September 04, 2014
L-com Global Connectivity, a designer and manufacturer of wired and wireless connectivity products, today announced the launch of their Low Smoke Zero Halogen (LSZH) DisplayPort Cable Assemblies. This cable family is identical to their popular DPCAMM DisplayPort cables, except they incorporate LSZH cable jackets. LSZH jacketing reduces the amount of toxic and corrosive gases emitted during combustion.
"The addition of the new LSZH DisplayPort cables magnifies the fact that L-com's selection of LSZH jacketed cable assemblies is unrivalled in our industry," said Steve Smith, Product Manager. "LSZH material is a safety feature that should be available to a variety of applications."
Low smoke zero halogen jacketing is very popular with military contractors as it is typically required in poorly ventilated areas. Other applications in which it is often used include digital signage or HD PC display in shipboards, aircraft and any other locations in which people and equipment can come into contact with toxic and corrosive gases.
L-com manufactures the LSZH DisplayPort cables in length options of 0.5, 1, 2, 3, 5, 10 and 15 meters.
For more information about this release, please contact:
Lindsey Cook, Internet Marketing Specialist
978-682-6936 x1148, mailto:lcook(at)l-com(dot)com
About L-com Global Connectivity
L-com Global Connectivity, a global leader in the manufacture of wired and wireless connectivity products, offers a wide range of solutions and unrivaled customer service for the electronics and data communications industries. The company's product portfolio includes cable assemblies, connectors, adapters, computer networking components, and custom products, as well as their HyperLink® brand of wireless products which include antennas, RF amplifiers, coaxial lightning and surge protectors, and NEMA rated enclosures. L-com's HyperLink® wireless products are designed for WiFi, WiMAX, SCADA, 802.11a/b/g/n/ac, RFID and Bluetooth applications. In addition to HyperLink® , L-com's other brands include MilesTek®, specialists in Military/Aeronautics connectivity solutions and Aiconics®, a leading manufacturer of electrical connector products. Trusted for over 30 years, L-com, which is headquartered in North Andover, MA, is ISO 9001: 2008 certified and many of its products are UL® recognized. For more information, please visit: http://www.L-com.com/