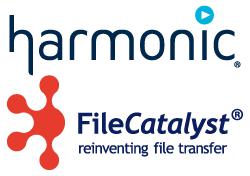 Ottawa, Canada (PRWEB) September 10, 2014
Unlimi-Tech Software, Inc., a pioneer in managed file transfers and the creator of FileCatalyst, a world leading accelerated file transfer solution, today announced an integrated file transfer solution with the MediaGrid shared storage system from Harmonic, the worldwide leader of video delivery infrastructure. This integration provides customers with exceptionally fast and secure file transfers.
MediaGrid shared storage is designed specifically for video workflows, providing the performance of a SAN (storage area network) with the simplicity of NAS (network attached storage). Proven in many of the world's most demanding video environments, the MediaGrid system is a great fit for applications requiring shared, real-time storage, such as edit-in-place, collaborative editing, transcoding, video on demand, and over-the-top (OTT) adaptive bitrate streaming.
The MediaGrid system's unique file system technology enables exceptionally high bandwidth across all capacity points thus allowing FileCatalyst's patent pending file transfer protocol to be leveraged when storing or accessing content. The FileCatalyst integration allows for file transfers at speeds up to 10Gbps, which aren't possible using traditional file transfer methods like FTP.
"We're thrilled to be working with Harmonic's MediaGrid shared storage system," said Vice President of Business Development for Unlimi-Tech Software, Alan Atkinson. "The product is one we have seen the importance of and being a part of it is rewarding. Our product offers exceptional performance and now Harmonic users will recognize it too."
"The MediaGrid shared storage system is used by organizations constantly moving large files in high quantities across the globe. Integration with FileCatalyst technology will benefit our customers by not only allowing them to have access to their files at amazing speeds, but to also transfer files at full line speed; thereby, eliminating issues with remote file access," said Andy Warman, Director of Product Management, Production and Playout, at Harmonic.
About Unlimi-Tech Software, Inc.
Located in Ottawa, Canada, a pioneer in managed file transfers, is the creator of FileCatalyst, a world leading accelerated file transfer solution. Founded in 2000, the company has more than one thousand customers in media & entertainment, energy & mining, gaming, and printing, including many Fortune 500 companies as well as military and government organizations. FileCatalyst is a software platform designed to accelerate and manage file transfers securely and reliably. FileCatalyst is immune to the effects that latency and packet loss have on traditional file transfer methods like FTP, HTTP, or CIFS. Global organizations use FileCatalyst to solve issues related to file transfer, including content distribution, file sharing, and offsite backups. To learn more visit http://www.filecatalyst.com or on Twitter @FileCatalyst.