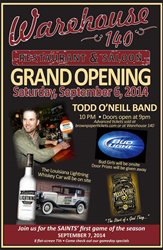 The perfect watering hole for great food, drinks and live music.
Ponchatoula, LA (PRWEB) September 05, 2014
Regional restaurant and concert venue, Warehouse 140 celebrates its grand opening September 5th, 6th, 7th, and 12th, 13th, 14th with a two-weekend charity fundraising event leading up to the official grand opening on September 16th at 10:00 a.m. The event will feature a limited menu showcasing four of the restaurant's favorite entrees, presented by Executive Chef Josh Herbst, with additional entrees for kids.
Saturday night, September 6th the live concert event starting at 9 PM will feature Todd O'Neill Band, a Louisiana home grown favorite band featuring original music such as "Somethin' With Some Attitude" and "Runaway Angel." Cost for the event will be $10. The following Friday night, September 12th will feature Chris Lee & Brittany Jenkins, a local favorite band featuring original and country music covers. Cost for that event will be $5. Tickets for the events are on sale online and at the door.
During the two-weekend event, a portion of the proceeds will go to help support The Children's Heart Foundation, a non-profit organization that funds research to advance the diagnosis, treatment, and prevention of congenital heart defects (CHD). Through 2013, The Children's Heart Foundation has contributed an astounding $6.1 million toward 58 revolutionary congenital heart defect (CHD) research studies. As the country's leading organization solely committed to CHD research funding, The Children's Heart Foundation dedicates itself to bringing health, hope and happiness to children and families impacted by a CHD. More information about the foundation can be found at ChildrensHeartFoundation.org.
About Warehouse 140 Restaurant & Saloon
Located at 140 N. Baronne Street in Ponchatoula, LA, Warehouse 140 is a family restaurant, saloon and concert venue with over 10,000 square feet space, able to accommodate up to 386 guests. Located in Ponchatoula, LA on the north shore of Lake Pontchartrain, the restaurant will feature authentic, slow-smoked barbecue with offerings like the Choctaw Smoked Beef Brisket and the Carolina Pulled Pork along with some unique items like the Buckin' Bison, a 7oz. Bison burger. The concert stage and bar area features a large rotating saloon able to swing up to 180° to quench the thirst of concert goers. High definition televisions are located throughout the restaurant, including the restrooms, and a giant 12' projector screen ensures the perfect game time experience. Upstairs, the VIP area offers a private lounge area with full service bar, access to concert events, and accommodations for private meetings and company functions.
Beginning September 16th, Warehouse 140 will be open 6 days a week, 11am to 10pm Tuesday through Thursday, 11am-11pm Friday and Saturday, and 11am to 9 pm on Sundays. For more information about Warehouse 140, call (985) 467-1400 or visit Warehouse140.com.
A Taste of Warehouse 140 with a Heart Event Schedule:
Friday, September 5, 2014
A Taste of Warehouse 140 with Heart, 4 pm- 9pm
Saturday, September 6, 2014
A Taste of Warehouse 140 with Heart, 4 pm- 9pm
Todd O'Neill, Live Entertainment, 9pm- 12am
Sunday, September 7, 2014
Saints Game Season Kick-off, 11am- 5pm
Friday, September 12, 2014
A Taste of Warehouse 140 with Heart, 4 pm- 9pm
Chris Lee & Brittany Jenkins, Live Entertainment 9pm- 12am
Saturday, September 13, 2014
A Taste of Warehouse 140 with Heart, 4 pm-9pm
Sunday, September 14, 2014
Saints Game Day Event, 11am- 5pm