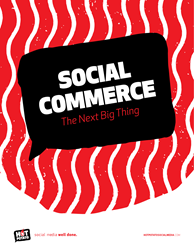 Naperville, IL (PRWEB) September 04, 2014
A new Guide to Social Commerce developed by Hot Potato Social Media, a Naperville (Chicago region) social media marketing agency, is available from both Hot Potato, and the Ecommerce Marketing Institute.
Entitled, Social Commerce: The Next Big Thing, the guide introduces the new topic of social commerce with definitions, statistics, 7 types of social commerce, along with some recommended, additional resources. In addition, the guide provides detail regarding 4 critical networks and initiatives for effective social commerce, including:

Facebook Social Commerce (f-Commerce)
Twitter and #AmazonCart
Pinterest
Reviews including eliciting positive review, and managing negative reviews
"While social commerce is a relatively new term, effective use of social media to improve both organic search results and increase website traffic is now mission-critical for all types of online and Ecommerce marketers," states Neil Brown, Hot Potato Chief Marketing Officer.
To download Social Commerce: The Next Big Thing link here.
###
About Hot Potato Social Media
Based in Naperville, IL outside of Chicago, Hot Potato Social Media is a full service social media marketing agency that helps companies and brands implement and manage social media and related digital marketing programs for measurable, and often profound sales results. For more information, check out the award-winning Hot Potato website, Facebook, Twitter, YouTube. You can email a potato head at questions(at)hotpotatosocialmedia(dot)com, or call 630-868-5061.
About the Ecommerce Marketing Institute (EMI)
The Ecommerce Marketing Institute is an educational platform and resource for online retailers, brands and marketers including training programs, industry information and resources. For more information please visit, http://www.ecommercemarketinginstitute.org, our Ecom Blog, Facebook, LinkedIn, YouTube, Twitter, or email info(at)EcommerceMarketingInstitute(dot)org.