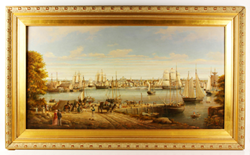 Beverly, Massachusetts (PRWEB) September 05, 2014
Fine art was the highlight of the day at Kaminski Auctions August 24th Nautical and Americana sale, with all nautical paintings in the sale performing well. The top lot was a Brian Coole oil on board, titled "Boston from the Chelsea Shore. The painting brought $19,800 after spirited bidding from the Internet and in the audience. It was a Kaminski Auction's record for a Brian Coole painting, as well a record price for the artist at auction. A second Coole painting titled "America's Cup Race sold for $8400.
American artists A.T. Hibbard, James Fulton Pringle, Thaddeus Bannister, and Charles Woodbury also performed extremely well, with a wonderful A.T. Hibbard seascape of Provincetown circa 1920, oil on board, selling for $10,800.
A selection of Americana furniture and decorative items brought respectable prices with a restored 18th century Governor Winthrop desk descended from the Winthrop family bringing $6900 and a wooden gilt carved eagle from the Charleston Navy Shipyard bringing $6300.
Asian items, especially Chinese gilt bronze buddhas continued to attract strong interest, A twenty five inch high Ming dynasty Buddha in this sale sold for $8400.
All prices include 20% buyer's premium.
Kaminski has a full schedule of auctions planned for the fall season. September 7th, 2014 features the Twentieth Century, Modern Design and Contemporary Fine Art auction, followed by an outstanding estate sale on September 28th and the Fine Asian Art and Antiques Sale on October 5th, 2014. For a full schedule of fall auctions and events please visit our website at http://www.kaminskiauctions.com and register to bid with KaminskiLive.