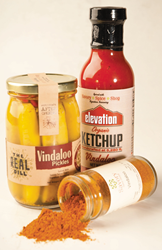 At Savory we strive to continually evolve and keep our shops interesting and fun for our customers, so when the opportunity came up to work with Justin and Tyler from The Real Dill and Aaron from Elevation Ketchup, we jumped on it
Denver, CO (PRWEB) September 26, 2014
"At Savory Spice Shop, we strive to continually evolve and keep our shops interesting and fun for our customers, so when the opportunity came up to work with Justin and Tyler from The Real Dill and Aaron from Elevation Ketchup, we jumped on it. After a little trial and error and input from our customers, Vindaloo ended up being the flavor that worked best," said Mike Johnston, Savory Spice Shop Co-Founder. "Traditionally, Vindaloo is a spicy hot curry, sometimes even fiery hot, but beneath the heat is great flavor. When we created our Vindaloo curry powder we decided to bring the heat level down to an approachable level so we could highlight those other flavors, particularly the cinnamon."
The new Real Dill Vindaloo Pickles and Elevation Vindaloo Ketchup will only be available at your local Savory Spice Shop for a limited time, starting on October 1, 2014.
"Although these are our first "official" co-branded collaborations, we have been fortunate to be the provider of fresh ground spices and seasonings for many other local companies," said Janet Johnston, Savory Spice Shop Co-Founder and Mike's wife. "We are proud to work side by side with our small business friends Elevation Ketchup and The Real Dill - it's been a fun partnership…and tasty too!"
Savory Spice Shop is a collection of locally owned and operated community spice shops across the country. Savory Spice Shop offers over 500 spice related products, including a vast selection of high quality, freshly ground herbs and spices and more than 175 handcrafted signature seasonings. The shops are over-flowing with rich, wonderful aromas from around the world as the spices and seasonings are ground and blended weekly to ensure superior quality and freshness. With the help of friendly, knowledgeable spice merchants, customers are encouraged to sample the vast selection of common and exotic spices and can purchase in quantities starting at as little as a half ounce. Savory Spice Shop is known as a "Cook's Paradise", catering to experienced and aspiring cooks alike and has developed a loyal following across the country with locations in thirteen states including: California, Colorado, Florida, Illinois, Nebraska, New Jersey, New Mexico, North Carolina, Oklahoma, Oregon, Tennessee, Texas, and Washington.
For more information regarding Savory Spice Shop's 10 year Anniversary, or to schedule an interview with founders Mike and Janet Johnston, please contact Jerrod Janakus at 303-297-1833.