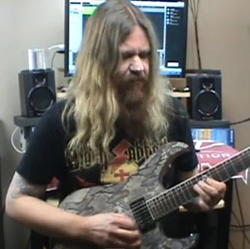 (PRWEB) September 04, 2014
Darrin uses a major and a minor triad in the root position and demonstrates how to combine the pattern for the first three strings with the pattern for the lower three strings to make one long continuous sequence across all six strings. Darrin uses these patterns to play the chord progression for Pachelbel's Cannon in D which gives it a really cool flowing sound and demonstrates it in detail so even the novice guitarist can follow along. Guitar TAB's are available for this cool guitar lesson at GuitarControl.com.
A Triad is a three note chord. A Major Triad consists of the Root Note, the note that a chord derives its name from, the Third (Major Third) and Fifth (Perfect Fifth) notes of the Major Scale. A Minor Triad consists of Root Note, Flat Third (Minor Third), and Fifth (Perfect Fifth). When a Triad is composed in Root Position the notes are arranged in the order of 1-3-5 for Major and 1-flat 3-5 for Minor. Triads can be inverted so that the Root Note is not the lowest note. The First Inversion is where the Root Note is moved to the highest pitch making the order 3-5-1 for a Major Triad and flat 3-5-1 for a Minor Triad. The Second Inversion is where the Root Note and Third Note are both moved about the Fifth making the order 5-1-3 for a Major Triad and 5-1-flat 3 for a Minor Triad.
Darrin Goodman
Darrin Goodman, a native of Ogden Utah, began playing guitar at the age of 12 after hearing KISS at an earlier age. Darrin has been a local finalist for the King of the Blues contest and is the lead guitarist of international recording artist Sonic Prophecy who has performed with artists such as Accept, Sabaton Cinderella and Ratt. Darrin has been teaching private lessons to 30 to 60 students a week from his home studio since 1987.
About GuitarControl.com
GuitarControl.com is the leader in modern guitar instruction. It's packed with recourses including articles, video lessons, and the best videos in the business for the beginner to the advanced guitar student taught by the best instructors out there. Weather you are into the blues, rock, jazz, metal, folk, or anything in between, they have you covered.