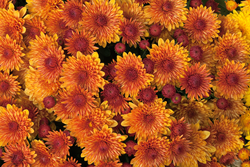 Steve LaWarre, director of horticulture said, "The impact of bold color combined with the changing of the season, complemented by other fall highlights such as apples, gourds and asters makes this exhibition a truly unique fall tradition."
GRAND RAPIDS, Mich., (PRWEB) September 05, 2014
Frederik Meijer Gardens & Sculpture Park is pleased to present the fall exhibition, "Chrysanthemums and More!" opening to the public September 19. This exhibition, the largest of its kind in Michigan, features expansive displays of chrysanthemums, fall foliage and family-friendly activities. The exhibition will be on display until October 26.
"Thousands of mums are planted in designs and patterns throughout Meijer Gardens," explained Steve LaWarre, director of horticulture, "The impact of bold color combined with the changing of the season, complemented by other fall highlights such as apples, gourds and asters makes this exhibition a truly unique fall tradition."
Visitors will be greeted with chrysanthemums throughout the Grand Entry Garden and Cook Entry Arbor, and delighted by abundant floral arrangements as they walk through the main building.
Upon entering the Seasonal Display Greenhouse, a cascading chrysanthemum-covered wall will present itself as the main focal point. Presentations of chrysanthemum spheres, large disbuds and beds of colorful planting will complement this feature in the nearby Victorian Greenhouse.
Outdoors, expansive beds of lush chrysanthemums will be arranged in large sweeps of orange, purple and gold. Red, this season's featured color, will thread all elements together and will be balanced by ornamental cabbage and kale.
Activities, such as the Fall Bonsai Show, Giant Pumpkins and Hallowee-Ones, are full of family fun throughout the exhibition. Mum Day on October 19 will give visitors a chance to take a walking tour lead by horticulture staff, enjoy informational demonstrations and learn more about the chrysanthemum.
The Taste of the Gardens Café will feature seasonal daily dinner specials on Tuesday evenings, with some seasonal ingredients coming from Meijer Gardens' own Michigan's Farm Garden.
Exhibition Programming
Herb & Gourd Fest
Saturday, September 20, 10 a.m.-5 p.m.; Sunday, September 21, 11 a.m.-5 p.m.
Be inspired with new ways to use herbs and gourds at this year's Herb & Gourd Fest. Discover a variety of ways to use chives, oregano, turmeric and lemon verbena, and sample foods made with them. Discover this year's "Herb of the Year," Artemesia, and learn about the many different types and uses. This event is included with admission to Meijer Gardens.
Fall Bonsai Show
Saturday, October 4, 10 a.m. to 5 p.m., Sunday, October 5, 11 a.m. to 5 p.m.
See a variety of bonsai, from trees in the early stages of training to lovely older trees, displayed by members from the West Michigan Bonsai Club. Shop for bonsai supplies and trees. Learn about materials and techniques used and vote for your favorite tree. This event is complimentary.
Giant Pumpkins at Michigan's Farm Garden
Saturday and Sunday, October 18 and 19, 1 to 4 p.m.
Weighing in at hundreds of pounds, these pumpkins will amaze kids and adults alike. Enjoy a cooking demonstration (1:30 and 3 p.m.) that will highlight the versatile use of this popular fall gourd. This event is included with admission to Meijer Gardens.
Fall Family Days
Sunday, October 18 and 19, 1 to 4 p.m.
Visit the Children's Garden for fall family fun. Activities include something for each of the senses: flower prints in the Kid-Sense Garden, weaving autumn tales in the Storytelling Garden and old-fashioned games in the Log Cabin. This event is included with admission to Meijer Gardens.
Mum Day
Sunday, October 19, 1 to 4 p.m.
Enjoy walking tours lead by the horticulture staff as well as informational demonstrations. Make a big, eye-catching tissue paper mum choosing from an assortment of fall colors. This event is included with admission to Meijer Gardens.
Hallowee-Ones
Friday, October 24, 10 a.m. to 12 p.m.
Dress your child in costume and enjoy this special event designed for the youngest visitors. Children are invited to join in a costume parade and listen to Halloween-themed stories. This event is included with admission to Meijer Gardens.
Drop-in Drawing Workshops
Saturday, September 20, 1-2 p.m.
Sunday, October 26, 1-2 p.m.
Grab sketching tools and head outdoors to colorful beds of mums. Work with an artist to learn drawing tips and techniques. All levels welcome. This event is included with admission to Meijer Gardens.
The "Chrysanthemums and More!" exhibition is sponsored by The Meijer Foundation and the Botanic and Sculpture Societies of Frederik Meijer Gardens & Sculpture Park.
# # #
Images available upon request. View thumbnails at: http://www.meijergardens.org/storage/docs/IMAGES_CHRYSANTHEMUMS_AND_MORE.pdf
About Frederik Meijer Gardens & Sculpture Park
One of the world's most significant botanic and sculpture experiences, Frederik Meijer Gardens & Sculpture Park serves nearly 600,000 visitors annually. Meijer Gardens was recently ranked in the top 100 most-visited art museums worldwide by Art Newspaper, the leading publication in global art news. The 139-acre grounds feature Michigan's largest tropical conservatory; one of the largest children's gardens in the country; arid and Victorian gardens with bronze sculptures by Degas and Rodin; a carnivorous plant house; outdoor gardens; and a 1900-seat outdoor amphitheater, featuring an eclectic mix of world-renowned musicians every summer. The internationally acclaimed Sculpture Park features a permanent collection including works by Rodin, Oldenburg, Moore, Serra, Bourgeois and Plensa, among others. Indoor galleries host changing sculpture exhibitions with recent exhibitions by Picasso, Degas, di Suvero, Borofsky, Calder and Dine. In June 2015, the 8–acre Richard & Helen DeVos Japanese Garden at Frederik Meijer Gardens & Sculpture Park will open. Created by renowned designer Hoichi Kurisu, the garden will also feature sculpture by Anish Kapoor, Zhang Huan and Guiseppe Penone, among others.