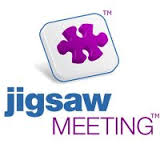 Our goal is to continuously strive to improve the virtual learning experience and we focus on providing what our clients really need
Atlanta, GA (PRWEB) September 05, 2014
Jigsaw announces that they have just released a new break out room feature that allows the instructor/moderator to easily break their session into mini groups called break out rooms. Jigsaw's break out rooms are unique to the market because they not only let you automatically move data from the main session to the break out room but they let you bring work back from the break out sessions to the main room.
And, true to form for Jigsaw who is always striving to provide the most comprehensive learning platform, they have also built the ability to record the break out rooms. As with all features within Jigsaw, the moderator has various options they can choose based on what they want to accomplish and then Jigsaw does the rest.
Josette Fleszar, Jigsaw's CEO, describes the newest feature in Jigsaw, "Our goal is to continuously strive to improve the virtual learning experience and we focus on providing what our clients really need. They are an integral part of our development plan, so when they asked us to provide break out rooms that are useful and easy with the ability to document the results from their small group sessions, we built it….with their input, of course. "
A Note About Jigsaw Meeting:
Jigsaw Meeting offers a virtual, interactive and collaborative solution for education and training. Jigsaw focuses on the learning experience for the education and corporate training markets. Jigsaw addresses three key factors to successful learning: engagement, accountability and performance/results tracking. These factors play a significant role in learning. The new break out room feature signifies Jigsaw's commitment to providing the best in class virtual experience, performance, and excellence in their offerings.
For more information about Jigsaw, please contact them at 678-208-2282. You can also learn more about the their break out rooms feature by watching the following video link: http://youtu.be/HwcCnwKnZgU