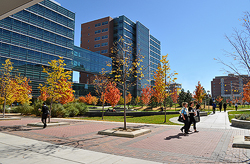 "The goal of this conference is to further the public dialogue about how we can create an economy that builds wealth for whole communities, including those who have been left out or left behind."
Denver, CO (PRWEB) September 08, 2014
This year's theme is "Creating a Cooperative Economy," and will focus on strategies and initiatives that build community-based wealth, create good jobs, and grow a more just and sustainable economy, particularly in lower income and disenfranchised communities.
The day-long conference will feature two national keynote speakers: Ed Whitfield, of the Fund for Democratic Communities, who will share why equitable community wealth building is key to a healthy democracy, and give examples of communities organizing to create wealth at the grassroots across the country; and Michael Peck, of Mondragon North America, a national and international leader in the worker cooperative movement, who will provide information and inspiration about the possibilities and economic impacts of worker cooperatives.
Breakout sessions throughout the day will focus on building knowledge and skills, showcasing local and national efforts, and engaging a variety of stakeholders to build momentum for community wealth building work in the Metro Denver area and beyond. Session topics will include: How to build a cooperative and what it's like to be a worker-owner; finding capital for start-up co-ops; community wealth building in the healthcare sector and through local food; the union-co-op movement; community land trusts; and the work of the Aurora Community Campus Partnership, among others.
The conference is being held on a Saturday to encourage community residents to attend in addition to professionals working in nonprofit, business, economic development, or other sectors. Scholarships are available for those with financial need, and interpretation and childcare will be provided.
"It's clear that the current economy is leaving a lot of people out," stated Patrick Horvath, Director of Economic Opportunity for The Denver Foundation, one of the host organizations of the conference. "The goal of this conference is to further the public dialogue about how we can create an economy that builds wealth for whole communities, including those who have been left out or left behind."
The host committee for the conference also includes representatives from: Rocky Mountain Employee Ownership Center, Rocky Mountain Farmers Union Foundation, Co-operate Colorado, and the University of Colorado Anschutz Medical Campus Community Campus Partnership. Major sponsors include: The Denver Foundation, The Colorado Trust, and The Piton Foundation.
More detailed information and conference registration can be found at http://www.cwbconference.org or by calling Michelle Sturm at 303-819-6985.