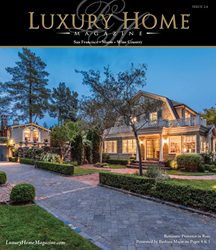 We have seen a real upswing in the number of inquiries related to entrepreneurial people that are interested in opening Luxury Home Magazine in new markets
El Dorado Hills, CA (PRWEB) September 07, 2014
Luxury Home Magazine®, the largest publisher of market specific luxury real estate publications, has opened 3 new markets in the first half of 2014. With the robust luxury real estate market showing no sign of slowing, Luxury Home Magazine has established a strong pace of opening and expanding into new markets. By doing so LHM has brought the magazine's reach and benefits to even more luxury real estate agents and homeowners across the United States.
Luxury Home Magazine of San Francisco | Marin | Wine Country was launched simultaneously with Luxury Home Magazine East Bay (which covers Alameda and Contra Costa Counties near San Francisco and Oakland). These two publications now give Luxury Home Magazine continuous distribution from Napa Valley south down to Pebble Beach and from San Francisco east through Sacramento, Lake Tahoe and Reno, Nevada. Already luxury real estate agents are reporting great results and home owners are using the magazine to find their next dream home. This region is a hot bed for luxury home sales recently and these 2 new publications fit perfectly with the needs of the marketplace.
Luxury Home Magazine of Montana is the third market to open in 2014. LHM Montana has the largest geographic coverage of any LHM publication. This publication features luxury homes that include: waterfront homes on Flathead and Whitefish Lake, mountain homes in Big Sky and expansive farms and ranches in the United State's 4th largest state.
These new markets are backed by Publishers with strong professional backgrounds including experience in real estate publications and digital media. Luxury Home Magazine is currently finalizing 3 more markets that are set to launch in the coming months. The connection to several of these new markets has come through Luxury Home Magazine's publishing opportunities website, which can be found at http://www.luxuryhomemagazine.com/opportunity
Emile Bonfiglio, who oversees market development for LHM said "We have seen a real upswing in the number of inquiries related to entrepreneurial people that are interested in opening Luxury Home Magazine in new markets. The strong power of our brand really gives new markets an unparallel advantage when entering a new market." Those who are interested in learning more about Luxury Home Magazine and the opportunities related to opening a new market should visit the publishing opportunities website above to find out more information.
About Luxury Home Magazine:
Luxury Home Magazine is a division of Sunshine Publication, Inc. Online magazine content featuring stunning luxury homes and the finest luxury real estate and more corporate information can be found at LuxuryHomeMagazine.com