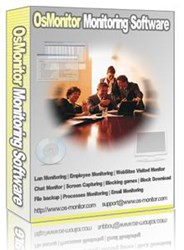 (PRWEB) September 09, 2014
Os-Monitor.com is an outstanding online supplier of useful monitoring software programs. Recently, the firm has released its new designs of PC monitoring software (http://www.os-monitor.com). What' more, all these new products are offered with huge price cuts, up to 10 percent off.
The company's new products are friendly network management programs designed for LAN environments. They can adopt a client-server mode with one server monitoring all client computers. All of them are carefully created by top experts. As one of the industry pioneers, Os-Monitor.com always has something for companies of all sizes. It sincerely wants to help all companies to improve productivity.
"We are happy to unveil the new PC monitoring programs (http://www.os-monitor.com/download.htm). To show our appreciation to worldwide clients, we are now offering big discounts for all these useful products. All customers can enjoy the special offer before September 24. Our purpose is to offer the most practical software programs for employers who want to improve productivity," the company's chief executive officer says.
As a matter of fact, Os-Monitor.com is selling more than 40 different kinds of great programs for worldwide clients. All the company's high-tech products are made by top experts. On its one stop website, people can always order what they need at the lowest possible prices.
About Os-Monitor.com
Os-monitor.com is a website platform owned by Wangya Computer Co., Ltd, which was established in the year 2006. The company specializes in developing different kinds of useful monitoring software programs. It has its own development offices based in Asia. The company's practical employee monitoring software products are very popular in the market. For more detailed information about its products and services, readers can visit its one stop website.